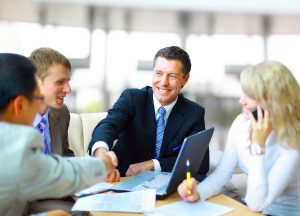 As a leader, attracting followers is all about creating brand promises and delivering them. This means leaders must do what they say—and more—to exceed the expectations of others. Genuine care for others and strong people skills are vital.
In essence, leadership is the ability to achieve goals through effective, that is to say, healthy, relationships. Leaders create healthy relationships by valuing others. They are respectful, fair and hold themselves accountable.
In the organizations where I consult, I see employees enjoy working for a leader who treats them like a partner, like an appreciated resource. This promotes a feeling of trust, security and being valued. Leaders who offer these kinds of relationships develop strong and lasting relationships.
Use Your People Skills
Leaders with people skills connect with and engage their people. This involves showing an interest in them, and seeking to understand their hopes and concerns. Leaders who can dialog with active listening build relationships.
Demonstrate your interest in others by asking questions. Be inclusive, asking for feedback from everyone at some point or another. You honor people by appreciating their ideas and solutions to problems.
Don't forget the power of keeping quiet. It's so easy to redirect the conversation to our own ideas and point of view, but when we do this we fail to hear what others are saying. Worse, they shut down and are less inclined to contribute in the future.
Be approachable and reasonable. Good listeners seek to understand—and challenge—the assumptions that lie below the surface of every conversation. Holding on to these assumptions is the biggest roadblock to good listening, being approachable and reasonable.
If your people know they can come to you and build on a relationship, they will trust you and value your leadership. When employees are comfortable and satisfied with their leader, there are no limits to what they can accomplish.
Inspire your people with a positive, empowering approach. Delegate as much authority as their level can accommodate. Celebrate their victories. And let me know how it impacts your brand promise. I'd love to hear your story. You can call me at 704-827-4474; let's talk. And as always, I can be reached here, or on LinkedIn.