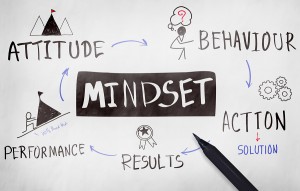 I'm sure you've noticed that for some leaders, identity is defined from the outside-in, and requires external validation in one of three ways: relationship strength, intellect, or results. I think this is partly due to cultural messaging that occupation determines identity, and productivity indicates value. Technology often reinforces this mindset.
Leaders can be accessed virtually anywhere, whether they are on company property or not. As Peter Bergman rightly observes in Leading with Emotional Courage: How to Have Hard Conversations, Create Accountability, and Inspire Action on Your Most Important Work (Wiley, 2018), the workplace is now everywhere. Leaders battle a boundary invasion, and their debased sense of value bleeds over into home life.
Great leaders know what they care about most.  They understand that their role at work is important, but not all-defining. It is not the basis of their self-worth. Family, friends, activities and personal growth provide satisfaction and help them to engage in all that they do with optimism and effectiveness. The key is not necessarily dividing their lives into work and non-work time, but finding a way to balance them such that they complement each other.
Look at ways to open up more non-work time with time management techniques at work. For example, establish a routine that helps you cover more bases in less time using the resources and staff available to you. Think ahead, anticipate demands and plan for multiple situations. This can reduce your stress and let you be fresher for the office and at home.
Similarly, more joy at home allows you to be more positive and fruitful at work. The most well-rounded leaders have found ways to enrich their relationships and activities at home, bringing more pleasure to life. Your family deserves more from you than what's left over from what your employer takes. Many leaders have found that a richer work life is built on a foundation of a richer personal life.
Save your sanity and energy and bring a fresh approach to each day. If you check your mindset and maintain balance, you'll have a more fulfilling identity and a richer purpose. These are the best paths to becoming all you can be as a leader.
What do you think? I'd love to hear from you. You can call me at 704-827-4474; let's talk. And as always, I can be reached here, or on LinkedIn.