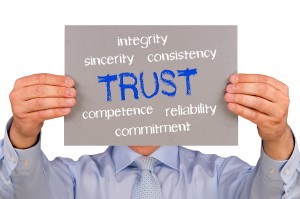 I believe that trust is the single biggest issue confronting leaders today, especially for those engaged in adjusting a culture. Too often, I see leaders undermine trust, with predictable consequences. But when you extend trust and are trustworthy, you create an environment of trust, where people can count on each other, take risks together and benefit from the resulting successes.
When this topic comes up with my coaching clients, we discuss how leaders enhance trust when they're transparent and humble. For example, leaders can display humility by expressing a need for help. Admitting fallibility and weaknesses, and setting aside insecurities, reveal a real person who can be trusted.
Trust builds teamwork, which inspires cooperation and a vital interconnectedness. Trust is founded on relationships—and the stronger the relationships, the healthier the culture.
Trustworthy Feedback
Giving honest feedback to employees raises the trust bar. As Daniel Coyle suggests in The Culture Code (Bantam Books, 2018), provide "targeted" or specific feedback. How?
Be candid, sincere and helpful. If your feedback is strictly positive, there's no way for you to provide constructive input. On the other end of the feedback continuum, overly critical feedback will discourage employees' efforts. Leaders need to strike the right balance.
When you deliver feedback, you can offer high or low levels of support and challenge, with relatively predictable results. If you, for example, provide supportive, yet unchallenging, feedback, your employee has no reason to change. Without any challenges, the employee may become complacent, bored or disengaged.
Conversely, if you give employees a challenge, but provide low support, they will probably perceive a stressful command-and-control environment. Why should they give their best without supervisory support or positive reinforcement? This further inhibits a trusting environment.
People want to contribute the best they have to offer and be valued resources. They need detailed critiques and opportunities to grow. Avoid judgmental comments; use active listening. As a coach, I love to see this in action. When you thoughtfully address people's situations and allow them to speak freely, you cultivate greater trust.
Employees with high self-esteem take initiative without continuous oversight. The best cultures feature self-directed teams whose leaders interject only when necessary. Employees become more invested and engaged in their work, which makes for a strong culture.
What do you think? How do create an environment of trust? I'd love to hear from you. You can call me at 704-827-4474; let's talk. And as always, I can be reached here, or on LinkedIn.