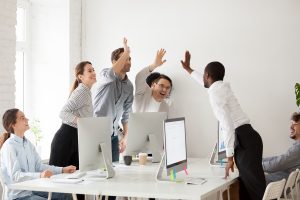 Do you have the three leadership proficiencies necessary to adjust your culture?
It saddens me to see otherwise great leaders unable to answer this question. Unfortunately, some leaders are disinterested in their culture, considering it superfluous. But as I wrote in my last post, your organization's culture can increase net income by more than 700% in an 11-year span.
Leaders who recognize this opportunity, but are too intimidated or unfamiliar, fail to take prudent steps (and sometimes make matters worse). A strong company culture doesn't happen in a vacuum.
Adjusting a culture is based on constructive relationships and interactions. But humans, by nature, often fail to engage each other constructively. Selfish impulses and habits get in the way. Fears, stubborn beliefs, prejudices and pride also inhibit healthy group dynamics.
Wisdom and Empathy
A focused and deliberate approach is essential to establish, nurture and grow a strong culture. In The Culture Code (Bantam Books, 2018), Daniel Coyle identifies three foundational skill sets, or proficiencies, leaders need to adjust their culture. The principles are simple, yet require wisdom and empathy to implement:
Define the organization's purpose. Values and goals must be shared so everyone is on the same page. A strong culture begins with unity and a common purpose.
Foster mutual trust. Establishing a culture where people trust each other and their leader takes time, but it empowers people to excel.
Create a sense of safety. People instinctively yearn for safety, security, a sense of belonging and a personal identity. Employees who feel safe engage wholeheartedly, without fear of reprisal or condemnation. Leaders must provide a consistently safe environment.
What do you think? Do you have the three leadership proficiencies necessary to adjust your culture? I'd love to hear from you. You can call me at 704-827-4474; let's talk. And as always, I can be reached here, or on LinkedIn.