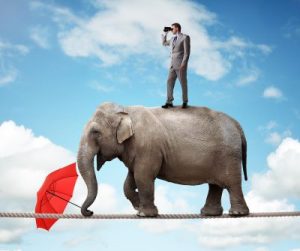 While leadership has evolved over time, a key function for visionary leaders is to answer the question "Where are we going?"  This requires a balance between a widescreen view and in-the-trenches focus; conceptualizing and executing. When too little attention is paid to daily business needs, all the bright ideas in the world cannot keep the ship from sinking.
When this topic comes up with my coaching clients, we discuss how leaders make things happen. You see, as a visionary leader, your job is to help your people answer the question "How will we make sure we get to where we want to go?"
Time management is one of the primary areas requiring adjustment. Visionaries must understand that tactical leadership skills are equally as important as their visionary abilities. Coaching teaches them how to partition time and effort. Successful visionary leaders learn to ration dream time so other responsibilities are met. Limited time assigned to visionary work can be sufficiently rewarding.
Visionaries must also learn that others may not think as quickly as they do, as Dr. Chestnut explains in The 9 Types of Leadership: Mastering the Art of People in the 21st Century Workplace (Post Hill Press, 2017). Slowing the pace to accommodate others is an adjustment worth making. Creative ideas should be prioritized before investing staff time. Asking people to tackle multiple brainstorms is too overwhelming. Only selective ideas—not all—will be processed. Direct reports with tactical expertise can determine which ideas can be implemented; leaders should accept their reasoning.
Living up in the clouds robs visionaries of life experiences and rewards on the ground, Dr. Chestnut adds. They miss out on the relationships and adventures involved in running the company. True, tactical leadership can be painful, frustrating and wearisome. But instead of avoiding these feelings, out of fear or insecurity, visionary leaders should face them, grow professionally, and build character, skill and confidence. Great leaders are forged out of adversity, not pure pleasure. Ideas are implemented through relationships and engagement.
What do you think? As a visionary leader, what helps you find balance? I'd love to hear from you. You can call me at 704-827-4474; let's talk. And as always, I can be reached here, or on LinkedIn.