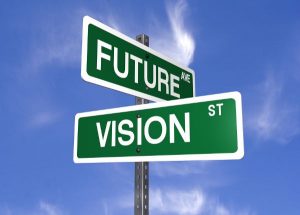 Think about the visionary leaders you've followed or admired: what were their plans for the future?
Leaders are custodians of the future, and when we work for someone, we work to help create a better future as they see it. In my work as a consultant, I have seen successful visionary leaders make a positive impact on their organizations when they:
Dream optimistically, encouraging and supporting their people's inventive activities.
Are always working on "the next big thing." They want their organization to be a leader in its field, setting the pace for others to try and catch.
Develop great brainstorming skills that overcome challenges most leaders would deem infeasible.
Turn negatives into positives. More is always accomplished with a can-do approach, which lifts morale and feeds the visionary culture.
Give people the benefit of the doubt, looking toward a positive outcome.
Are often sought after to create solutions, bringing notoriety and opportunity to their organization.
But visionary leaders can be overly idealistic and creative. Their focus on the future draws them away from important tasks. Have you noticed? They:
Have too many ideas going at one time to properly prioritize, manage or execute.
Brush off negative concerns from their staff, avoid problematic issues and overlook warning signs or mistakes.
Find ways around roadblocks that impede their visionary process, often breaking the rules. Employees may then feel resentful and frustrated.
Lose interest in non-creative tasks and duties. They ignore everyday responsibilities when their ideas seem more compelling.
Prioritize activities based on what's most fun for them.
Have blind spots that lead them away from the actions required to understand and address serious issues.
Are so unfocused that they fail to grasp current trends or the business climate, thereby hurting the company.
Have vague conceptual ideas that management cannot understand or appreciate.
Aren't detail oriented and have difficulty performing accurate work, meeting commitments or completing assignments.
Think and speak so rapidly, caught up in their own little world, that they stop listening to others.
Have such a strong emotional need to dream that they take their company in the wrong direction. They unconsciously feed their personal needs more than those of the company.
Seek quick wins and disassociate from anyone who slows their creative process (with facts).
Fail to address problems they deem insignificant.
Strong visionary tendencies can render leaders inefficient and cause pain to those around them. While companies certainly need visionary thinkers, everyone must maintain the proper balance. The best leaders successfully juggle the present and future, focusing on the organization's urgent needs and prioritizing them over tempting pie-in-the-sky ideas.
What do you think? What is the future for visionary leaders? I'd love to hear from you. You can call me at 704-827-4474; let's talk. And as always, I can be reached here, or on LinkedIn.