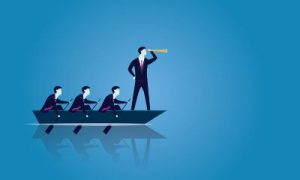 We look to our leaders to envision a future, to figure out where the organization needs to go to succeed, to evaluate ideas for pragmatism and fit for the company's core mission. Productive visionary leaders understand how people, money, resources and organizational capabilities will work together to get from the present to a desired future. A truly successful visionary leader attracts and retains top talent.
But some visionary leaders can be difficult bosses whose brainstorming and idealistic tendencies frustrate employees and create career obstacles. I have seen less skilled visionaries lose their way, devoting themselves to the future, the impossible and the things that could be. While everyone admires visionary thinking, too much of it creates a dangerous imbalance.
The Siren Call
Visionary leaders are future-oriented. They are intensely curious, and continually collect new ideas from a wide variety of sources. Visionary leaders are bent on taking things to the next level, solving the unsolvable problem, and developing something unprecedented or revolutionary.
While such ambition is worthy, pure visionaries tend to be interested only in conceptualizing business ideas, and they often fail to involve themselves in the execution stages. Their brains are fast-thinking, idea-generating machines, with each concept analogous to a sheet of paper quickly torn from a thick pad.
Is your mind camped on the "what ifs?" of your business, while other issues are pushed aside? Do you wish you could devote all your time to brainstorming activities while someone else handles the other major responsibilities on your plate?
If you're a visionary leader, you have many ideas racing through your mind at the same time, each in a different stage of incompletion. One idea may progress to a certain point, only to be superseded by another. Some ideas will be abandoned after a few primary thoughts, while others will morph into concrete descriptions for your staff to pursue.
Visionary leaders are the conceptualizers. They rely on their tactical thinkers—the ones with practical know-how of processes, procedures, policies and planning—to turn ideas into reality. Can you relate to this scenario?
Noted psychotherapist and leadership consultant Dr. Beatrice Chestnut describes visionary leaders' idealistic tendencies in The 9 Types of Leadership: Mastering the Art of People in the 21st Century Workplace (Post Hill Press, 2017). Visionaries enjoy thinking about what might be and how companies can improve. They're excited by new ideas—primarily those that come from their own mind so they can maintain control.
For visionary leaders, the present isn't interesting unless there's room for improvement. They find their optimism and hope in the next chapter, and they see their role as enhancing lives by creating new possibilities. They love to think outside the box and push the envelope of what's considered feasible.
Visionary leaders view circumstances through a cup-half-full filter, where negative thoughts are avoided and only positive outlooks are permitted. This helps feed their creative juices and blocks negative emotions that hinder them. Negativity deters the creativity visionaries need to feel purposeful and happy.
If you recognize some of these tendencies in yourself, you may be a visionary leader. And while you may greatly benefit your organization, your focus on future possibilities may distract you from critical responsibilities. This jeopardizes your operation and makes life harder for your staff because you're likely neglecting the tactical aspects of business.
What do you think? Have you experienced the allure of a visionary leader? I'd love to hear from you. You can call me at 704-827-4474; let's talk. And as always, I can be reached here, or on LinkedIn.