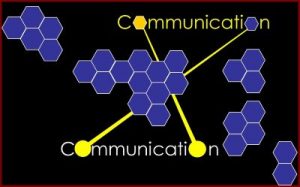 Your communications may be sabotaging your legitimate leadership authenticity.
I have seen survey after survey that show most employees want better communications at work. And given the vast amount employees must sift, sort and respond to, it's no wonder. Some leaders consider information to be communication in and of itself, but it's really just data.
Communication is the ability to convey information strategically. Think about it: when leaders communicate with purpose, logic, intention and emphasis, people detect authenticity. Employees trust leaders who speak clearly and directly.
Authentic communication cannot be muddled, confusing or timid. People think a leader who hedges or beats around the bush has something to hide and write off communication as inauthentic.
Inauthentic communication is the best way to lose employees' respect and trust. Dishonesty, mixed messages, inconsistency and unreliability are serious communication weaknesses. They're noticed quickly and are impossible to hide.
But when leaders consistently communicate complete and timely information, people can rely on its authenticity. They know leaders are attempting to benefit everyone. When leaders hold back information for personal or political motives, employees usually discover the deception and develop distrust.
Airs and pretenses must be cast aside. Leaders become transparent when they admit to being fallible or poorly informed on a specific topic. Such authenticity is attractive, especially when leaders ask for help.
As Anna Crowe writes in Get Real: The Power of Genuine Leadership, a Transparent Culture, and an Authentic You (Lioncrest Publishing, 2019), a leader's mask severs the connections needed for collaboration and unity. I couldn't agree more. Admitting mistakes reveals a vulnerability that draws people's admiration and appreciation.
Leaders who hold themselves accountable to their people earn respect. Making commitments means you must deliver on them. If you're open to feedback, willing to ask people about their needs, seek ideas for improvement and genuinely listen to feedback, you demonstrate authenticity. Taking action based on this input convinces people you're authentically interested in their welfare and growth.
What feedback are you getting on your communications? Do they sabotage your legitimate leadership authenticity? I'd love to hear from you. You can call me at 704-827-4474; let's talk. And as always, I can be reached here, or on LinkedIn.