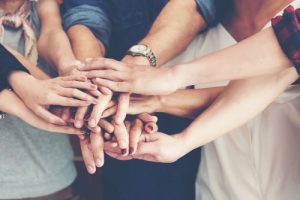 Have you noticed how teams composed of individuals who vary in their strengths, skills and personalities feed synergy and motivation? When paired with other skill-sets, people inspire one another and learn from each other. The sense of unity reduces barriers and creates a collective drive to solve problems with creative solutions. In a culture of "we", unified teams work together effectively in a positive, encouraging and confidence-building process.
I've been writing about this in recent blog posts. People want to be part of something bigger than themselves, and they generally embrace opportunities to contribute to organizational success. Forward thinking leaders recognize the importance of unified teamwork. It helps people feel fulfilled, individually and collectively.
Teamwork involves diligent communication. Give your people the information that concerns them: company operations, issues and activities. This helps them know where they stand and where they may be headed.
As Chapman and Sisodia note in Everybody Matters: The Extraordinary Power of Caring for Your People Like Family (Portfolio, 2015), communicating goals and progress inspires people to use their talents and discover capabilities they didn't even realize they had. I know I write this often, but let me reiterate: place people in roles that make the most of their gifts.
Inspire positivity and innovation. Ask challenging questions, provoke opportunities, and put your people to the test. Give them a chance to learn through mentorships, training and workshops. When people are invested in their contributions, they become emissaries of influence. They sense they've found a home and work hard to protect, improve and tout it.
Leaders need to set the example and model desired behaviors. This takes patience and practice. Learn to avoid trust-damaging conduct and policies. Leaders who see the long view take time to develop their people and create unity through teamwork. People who are treated well will reciprocate. They'll have more to be happy about, which improves attitudes, work ethic and effectiveness.
What do you think? How do you promote unified teamwork in your organization? What impact does it have? You can call me at 704-827-4474; let's talk. And as always, I can be reached here, or on LinkedIn.