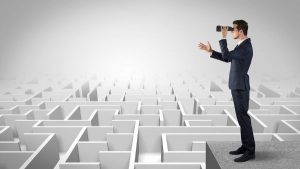 People need to be part of something bigger than themselves, and they generally embrace opportunities to contribute to organizational success. They want to be part of a unified team. Yet organizational environments may prevent them from feeling satisfied.
I've been writing about this in recent posts. When this topic comes up with my coaching clients, I recommend they take note of what people struggle with, and attempt to make their lives easier by showing care and concern. Simply telling your people they matter without demonstrating it is the easiest way to destroy their trust and work ethic. Words must be accompanied by swift action; otherwise, trust falters.
Assess bottlenecks. Are your methods and procedures taxing or wasteful? What about working conditions? Are people crammed together, with no room to work and little privacy? Is their environment noisy or distracting enough to hamper their focus? Do they have ample light to see what they're doing? Address any relevant issues to improve attitudes and unity.
Employees often complain about too much work and insufficient resources. Is each team member tackling the work of three or four people? Are people putting in relentlessly long workdays? Add or reallocate resources to increase unity. Saving money while your people burn out benefits no one in the long run. An oppressive environment kills unity.
Leaders who commit to solving problems forge even greater unity when they empower their people to be part of the solution. Employees feel valued when they're trusted as experts and problem-solvers, knowing the company needs them to realize leadership's vision. A culture built on collaboration and appreciation reaps the benefits of greater unity.
Establish multidisciplinary problem-solving teams to break down traditional silos, urge Chapman and Sisodia in Everybody Matters: The Extraordinary Power of Caring for Your People Like Family (Portfolio, 2015). Ask employees for feedback, ideas and solutions. Invite them to evaluate best options, formulate plans to implement fixes and participate in follow-up activities to continue improvement efforts. There's no better way to obtain people's buy-in and promote unity.
What do you think? How do you assess and address compelling problems in your organization? What impact does it have? You can call me at 704-827-4474; let's talk. And as always, I can be reached here, or on LinkedIn.