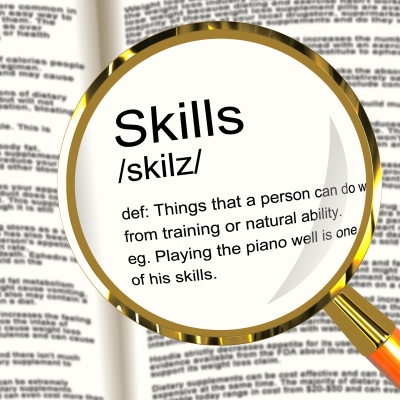 Great leaders know that there are crucial skillsets to be mastered early in their career, and others that take time and experience to enhance—knowing the theory isn't enough to be successful. I wrote about this in my last post, here. Effective leadership relies on a blend of perspectives and skills, all aimed at bringing out the best in everyone:
Leadership skills
Management skills
People skills
Unlike talents (how you naturally think, feel or behave), skills are your ability to perform a task's fundamental steps. Great leaders acquire skills through formal or informal training and practice.
Leadership Skills
Leadership skills equip leaders to set a vision: assess the business climate, see opportunities and chart the course.  Leaders analyze trends, capabilities, resources, competition and markets. Making sense of all this input and fashioning it into an achievable plan is at the heart of leadership skills.
Skillful leaders create a diverse, yet cohesive leadership group of individuals who can collaborate and synergistically refine the vision. Once a vision is agreed upon, the leader engages the entire organization. Part of the skills of leadership is selling the vision to the staff.
A leader who sells a vision understands the needs of all stakeholders, from employees to board members. Ideally, the vision points the way to security and offers direction, affirmation and prosperity.
Selling a vision requires corporate communication skills that stir passion and inspiration in others. Skillful leaders tap imaginations, trigger feelings and link to benefits. It takes skill to properly deliver a message that conveys this.
Management Skills
Management skills are necessary for leaders to take the vision to the next phase: action. Vision implementation requires significant planning and coordinating. During implementation, leaders continue to employ their leadership skills of inspiration and selling, but they now share the stage with management skills.
Managing a vision project gets into the finer details, where action plans, schedules and goals are needed. Specific skills are required to coordinate the many facets of a vision project. Delegation is required to cover all the bases. Many things need monitoring including deadlines, budgets, manpower and the problems that spring up.
Problem-solving is a valuable management skill and can keep a project on track. Issues continue throughout a vision-implementing journey, requiring a leader skillful with mitigation. This includes the wisdom to bring in the appropriate resources.
Another management skill that makes vision implementation successful is the ability to assess progress.  This requires perspective, strong analysis skills and insight. Leaders with great management skills know how to make adjustments and keep their staff at peak performance, without losing interest or motivation.
Undergoing significant change while implementing a vision can sidetrack an organization from its everyday course of business. Leaders with strong management skills recognize this and account for it. They keep their hands on both steering wheels to ensure normal tasks are completed and customers are happy.
What do you think? How strong are your leadership and management skillsets? You can call me at 704-827-4474; let's talk. And as always, I can be reached here, or on LinkedIn.