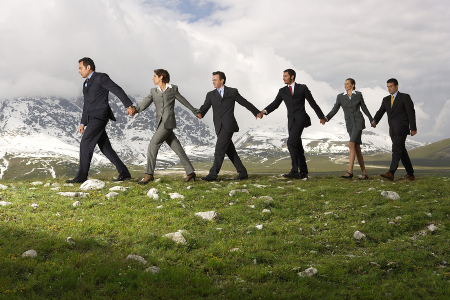 I've been writing about negative thinking and how to overturn negativity. (If you missed these posts, you can view them here.) Your first steps are to observe and assess thoughts and responses to identify negative thinking.
With a rational approach of exposing some negative thinking as false, positive thoughts can fill the gap. With enough practice, negative thinking can be disconnected from the routine. You can acknowledge that it's detrimental to you (and everyone else), and reframe the situation.
If you're like the leaders and executives I work with, your review of the past proved that good things did happen, and they can again. Your past difficulties don't necessarily impact your future challenges. It may seem like another trial is coming your way, and it smells familiar. But as I encourage my clients, strive for a positive way to look at it. Put to work what you learned in the past to forge a better viewpoint.
Dwelling on the negative will never help you overcome any trial. Let the negative angst go. Trying to wrestle with it only invites it to continue to jab at you.
Rally Your Team
As a leader, your role is to rally your people to a common vision, by helping them attain their goals. You can't do this with a negative mindset. You owe them the most positive experience possible, so everyone can succeed together.
Think not only of yourself in your mission to overturn negative thinking. Think of them. They're looking to you to lead them well. That's a big calling. It can only be fulfilled effectively from a positive frame of mind, which is contagious.
With a more realistic perspective and the valuable input of others, you can adjust your viewpoint, approach, and actions. You no longer need to assume that things will always be painful, but legitimately believe things can, and will, get better.
What do you think? Do you reframe situations to broaden your perspective? Have you restructured your thinking, or the thoughts of others, to overturn negative thinking?  I'd love to hear from you. Give me a call, 704-827-4474. Or, you can reach me here and on LinkedIn.