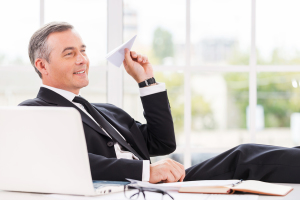 Great leaders who have friends at work certainly seem to have more fun on the job. But did you know that leaders with workplace friendships make better decisions, are more engaged in work, more committed, and productive?
Making friends at work is more important than we give credit. Workplace friendships are one of the strongest predictors of productivity, according to research. What I find notable is that few leaders recognize the importance of workplace friendships, according to psychologist Ron Friedman in his book The Best Place To Work.
"It's because it's easy to confuse the concept of friends at the office with the notion of fooling around," Friedman explains. "Close friendships are perceived as a source of gossip, favoritism, and distraction. But that's exactly the wrong way to think about what happens when we're working with friends."
It turns out that meaningful connections are vital to our psychological and physical well-being. In fact, it's impossible to perform at our best unless we feel connected to others.
But making friends at work isn't always easy. I hear this in my coaching practice in subtle, and not so subtle, ways. Work relationships can be complicated by notions of hierarchy and perceived utilitarian motives. Efforts to befriend someone can feel forced.
When we meet another person for the first time, it's a defining moment in how that relationship will develop. On a neurological basis, the human brain instantly picks up clues to whether a person is friend or foe. When I think about all the first impressions people have made on me, and consider the impact, that makes sense to me.
We select which coworker relationships to cultivate. Friendships at work are different than those in other contexts. The culture of the organization most likely has unspoken rules about appropriate social contacts.
What have been your experiences with making friends at work? Is it encouraged within the organization? I'd love to hear from you; give me a call, 704-827-4474. Or, you can reach me here and on LinkedIn.