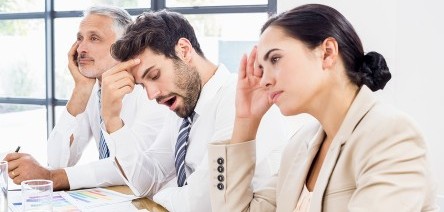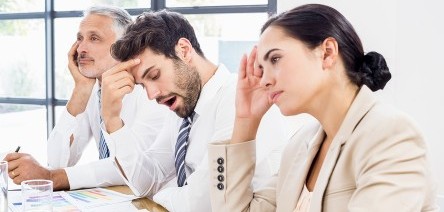 It might be shocking to think, but you might be seeing symptoms of "good-enough" leaders in your organization.  I've been exploring how organizations suffer from a culture of "good-enough."  What I've found in my coaching practice is that leaders in these organizations are not focused on excellence. They send signals that they don't care―­some signs are subtle, some are clear. And they're found throughout the system. Here are a few examples:
Good Enough Symptoms in Leaders
Leaders often ignore the elephant on the conference room table. Certain bad topics are not discussed. Waves aren't made. Upsetting bosses with bad news or concerns is avoided at all costs. When staff leave a meeting knowing an underlying issue is deliberately left unaddressed, this is a sign that the status quo is too important to disrupt. Good enough is good enough.
When red tape bogs down a process and is discussed with no effort to get to root causes, this is a trouble sign. In these instances, leaders simply want the bottleneck to go away by any means necessary, and there's no real concern for prevention or improvements. They permit an exception to the rules and everyone goes back about their business because good enough is good enough.
Leaders are more upset at delivery numbers than product quality when production non-conformance arises. Standards are conceded to get the product out the door, or leaders approve a band-aid for the problem, hoping it's just a limited issue. The concessions are easier than diving into the causes and effective solutions, because good enough is good enough.
Good Enough Symptoms in Employees
People start blaming one another during stressful situations rather than trying to reach understanding. Gaining clarity and collaboration takes work, sometimes a lot of it. Leaders don't regard teamwork worth giving of their time and effort, so they allow their people to endure disunity because good enough is good enough.
Employees are skeptical of feedback forms, company surveys or information meetings because their voices are rarely valued, heard or acted upon. Suggestions go unanswered, survey results are not shared and organizational information has no real substance. Any improvements are minor, not requiring a significant investment. Leaders don't emphasize positive change because good enough is good enough.
Specific departments turnover, and exit interviews indicate a managerial problem. But leaders see it more difficult to replace a manager―with a higher salary requirement and a more complex recruitment process―than to continue finding new employees with fairly common skills. Leaders choose to make due, overlooking the manager's weaknesses because good enough is good enough.
These symptoms are a general indication that leaders don't really care enough about excellence to truly implement it, and probably don't understand how to.
What's it like in your organization? Do leaders strive for excellence? What about teams? I'd love to hear from you; give me a call, 704-827-4474. Or, you can reach me here and on LinkedIn.