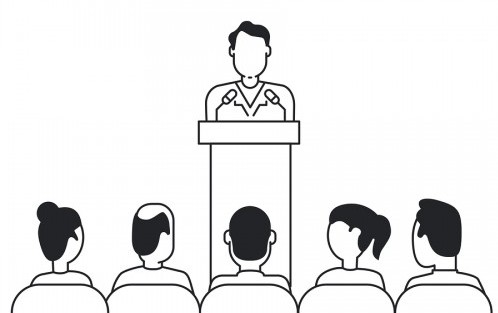 What's needed to craft a really good persuasive presentation? Great presentations matter. Not only do they advance your career, they sell products and services, find investors, establish trust and credibility, and gain support for new ideas.
Today we have easy technology to help produce professional presentations, but that's not what matters if you want to persuade action by your audience. TED Talks have redefined the elements of a successful presentation and become the gold standard for public speaking.
Although visuals and delivery matter, the ability to present novel content that makes an emotional connection is at the heart of whether a presentation inspires action or not.
According to author Carmine Gallo in his book Talk Like TED: The 9 Public-Speaking Secrets of the World's Top Minds, (St. Martin's Griffin, 2015), if you leave out one of these three elements—emotional, novel, memorable—you won't persuade anybody to do anything and you won't get the results you want.
Emotional
From what I observe, most professionals tend to focus on the "what" and "how" of their information. But effective presentations appeal to both the head and the heart. Masterful speakers show their true passions. They use stories to help listeners emotionally attach to the topic. They show "why" this information matters.
Research from neuroscience reveals that stories sync minds and create connections with people. These connections are enhanced when a speaker has congruent body language and nonverbal behaviors that are conversational. Instead of delivering a speech, great speakers converse with their listeners.
Of course, a lot of practice is required for anyone who strives for a more comfortable and natural impact. Masterful speakers may rehearse up to 200 times in preparation.
Novel
Presenting information in a unique way captures a person's attention. Neuroscience reveals that novelty is required in order for a listener to recall the speech later on.
The brain can't ignore unusual information. Speakers must find a way to grab the audience's attention with "jaw-dropping" or "wow" moments. The skillful use of visuals, video, and genuine humor can help. These moments are what make TED Talks so interesting.
Memorable
If the audience can't remember what you said, your ideas don't matter. You can present truly game-changing information but unless it is delivered in a way that is emotional and novel, your audience won't pay attention and won't remember it.
Scientists have known for a long time that what gets remembered are events that happen during significantly emotional times. We remember what we were doing at the time of the 9/11 attacks. It's hard to create emotional events during a business presentation, but you can connect the audience to multisensory experiences that deliver dry data in meaningful ways such as graphics and analogies that relate to everyday experiences.
Which of these three elements challenge you the most in putting together your presentations? Maybe it's time you updated your own speeches?
I'd love to hear from you. Give me a call, 704-827-4474. Or, you can reach me here and on LinkedIn.