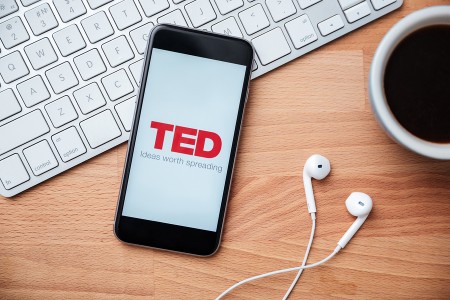 It doesn't matter what your job is, at some point you'll be asked to craft a great presentation. Your career, your sales, your leadership success depends on being able to persuade others. How do you learn to craft a speech that persuades? Most people suggest you learn from TED, the online site dedicated to "Ideas Worth Spreading."
If you're a fan of TED.com, you probably remember the first time you viewed one of the company's free 18-minute online presentations. TED Talks are truly inspiring. If you're not yet familiar with them, you'll find that their speakers provide jaw-dropping stories you'll be talking about for weeks.
TED's growing global audience is testimony to the success of their speakers. Since June 2006, the talks have been offered for free viewing online.
By January 2009 they had been viewed 50 million times
In June 2011, the viewing figure stood at more than 500 million
By mid-November, 2012, TED Talks had been watched one billion times worldwide
Originally focusing on technology, entertainment and design—hence, the initials—TED Talks features remarkable experts in diverse fields with revolutionary ideas. As some of the most viewed speakers in the world, they showcase their high-level presentation skills—a seamless blend of intelligence, entertainment and persuasion.
Your ability to persuade others will contribute greatly to your overall success. Fortunately, there's a couple of good books that can help you break down the key elements of an effective presentation such as the ones on TED.
Crafting a Great Presentation

Jeremy Donovan, executive vice president of Gartner, Inc., has written How To Deliver a TED Talk, a complete guide to creating presentations that inspire others through stories. Based on the most popular TED Talks, this playbook shows you how to select a topic, craft your narrative and fine-tune your delivery.
Select a Topic. Regardless of topic, your goal is to awaken your audience to a new way of thinking or persuade them to take action. Ask yourself:
Why is this topic important, to me, the audience and the world?
How will my audience benefit?
How can I enlist others to join my crusade?
Identify a central idea, and work backwards to establish an audience-centric narrative that includes stories and facts. As you build your talk, play the role of skeptical listener by asking "So what?" and "What's in it for me?"
Appeal to Your Audience: People have four driving needs, so make emotional connections that appeal to your audience:
Social need for belonging
Self-interest
Ability to learn and grow
Desire to make a meaningful difference
Be sure to explore beyond the surface of your topic, but don't try to pack a lifetime's worth of learning into a single talk.
Be clear about your central idea. Focus on a unifying message; then, scour your brain for amazing experiences that add emotional depth.
In the work I do coaching leaders and executives, you'd be surprised how many struggle with fear of presentations. Instead of focusing on your idea or product, shift your focus to the universal needs of the people in your audience.
Make your presentation matter to the people listening to you. What about your presentations? Where do you go for help and inspiration to craft a great presentation? I'd love to hear from you. Give me a call, 704-827-4474. Or, you can reach me here and on LinkedIn.