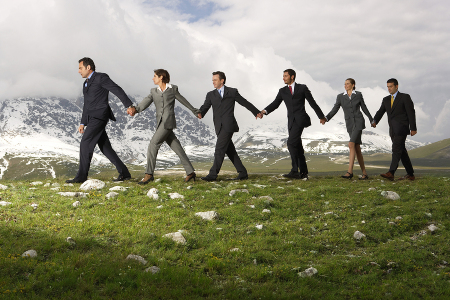 So far, in reading authors William B. Joiner and Stephen A. Josephs in Leadership Agility: Five Levels of Mastery for Anticipating and Initiating Change, I've written about the Expert, the Achiever, and the Catalyst levels of leadership development.
With each progressive level, a leader develops more awareness of the thoughts, feelings and assumptions that drive behavior. At the same time, this increase in consciousness allows a greater capacity to handle complex challenges with both people and business results.
At the Catalyst level, a leader learns to step back and reflect in the heat of the moment, and this increase in awareness helps create contexts that achieve desired outcomes. At the Co-Creator level there is an expanded ability to stop and reflect and to consider possibilities outside of normal conscious awareness. Leaders at this level are able to deploy such inner reflective thinking even while engaged in ill-structured leadership challenges that are mentally complex and often emotionally charged.
Awareness at the level of a Co-Creator leader allows one to stay longer with disconcerting feelings and direct attention to those feelings in order to better resolve emotional challenges. Co-Creators make meaning out of these experiences in ways that are non-blaming and not judgmental. There is an increased ability to understand what's behind surface-level thoughts that helps create better relationships with others and the world around you.
"You develop a keen awareness of interdependence and a capacity for integrative thinking that allows you to see how multiple frames of reference can work together to address ill-structured problems. The Co-Creator level of intent is rooted in an evolving sense of life purpose that allows you to express your deeper talents and interests while enhancing the lives of other human beings." ~ Josephs and Joiner, Leadership Agility
Leadership development involves a progressively more mature ability to handle problems, people, and systems in the face of complex environments. It is impossible to lead successfully without continually upgrading your capacities to think, feel, and behave at higher levels of consciousness. This isn't something a person can do on their own. It usually involves working with a professional who understands the context and system in which you are working.
In my opinion, coaching is not just nice to have, but a business imperative in today's rapidly changing global marketplace. Things have become too chaotic to handle at basic levels of awareness and maturity. More is needed if leaders are going to sustain success.
It's no longer about personality or competencies. It's both. Which leads me to my question: What are you doing to develop your leadership? I'd love to hear from you. Give me a call. Or, you can reach me here and on LinkedIn.