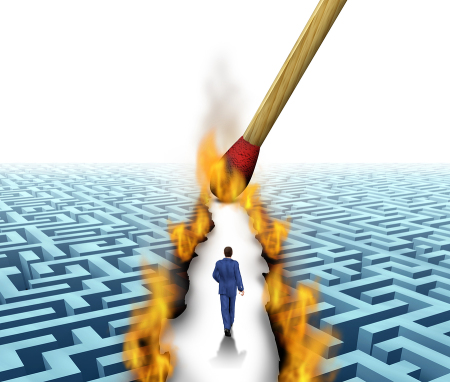 Ongoing leadership development is the most important key to leading successfully. Anyone who has led a team or business for any length of time with any degree of success can tell you that it requires continually evolving one's skills, of both mental and emotional capacities. What gets you to one level of responsibilities in an organization won't necessarily get you to the next. No leader can afford to stagnate.
In my coaching practice, I've worked with a few highly effective leaders over the years. I've noticed that some grow with the job and get better over time. And some clearly don't. Why is that?
I've been learning about the relatively new science of adult developmental stages, and in particular, the five levels of leadership as defined in the book Mastering Leadership: An Integrated Framework for Breakthrough Performance and Extraordinary Business Results by authors Robert J. Anderson and William A. Adams.
As adults (and leaders) grow into increasingly mature mindsets, they can handle more complexity in managing both tasks and people.
Anderson and Adam's Universal Model of Leadership is based on these five levels of leadership stages: Egocentric, Reactive, Creative, Integral, and Unitive. My previous posts explained what is meant by the first three stages of development of leaders. Here is what I understand is meant by the Integrative leadership stage.
The Integral Leader
The leader who is operating from a Creative mindset has internalized all the competencies of the Reactive Stage and is therefore adept at translating strategy into execution for results. Identity has moved on from outside-in to inside-out, and Creative leaders are less limited by worries to stick to the safe road and more committed to playing to win. The inner game has shifted from fear-based, play-not-to-lose to an inner game driven by passion and purpose.
In the shift from the Creative to Integral Mind, the leader is even more self-authoring in life as well as career with a higher degree of self-awareness and system-awareness. The leader focuses on a more encompassing world-view, with a commitment to the welfare of an expanded whole system.
The visionary leader becomes the Servant Leader. The focus is both on the success of the organization that we are leading (the hallmark of Creative Leadership) and on the interdependent welfare of that organization and its larger system. ~ Authors Robert J. Anderson and William A. Adams, Mastering Leadership  2015
The Integral leader expands his/her perspectives both for time and for what's possible. The occupation with strategy and vision shifts to a larger system and designing for the future. Both the well-honed visionary and strategic capabilities of the Creative stage and the managerial competencies of the Reactive stage (solve problems, execute, get results) are deployed in service of a larger systemic vision.
At this Integral leadership stage, the leader focuses on optimizing the system for the welfare of the whole system. To operate at this level of maturity involves a high level of emotional intelligence but more importantly, intuitive insight. At this level, a leader is able to manage polarities found in complex systems and tolerate ambiguities and uncertainties.
Not surprisingly, Integral leadership is rare. According to many researchers using similar stage development theories and assessments, only 5% of leaders evolve to this high level of functioning.
Have you ever worked for a leader who demonstrated this degree of mastery? I'm sure you'd remember if you had. I'd love to hear from you. Give me a call. Or, you can reach me here and on LinkedIn.