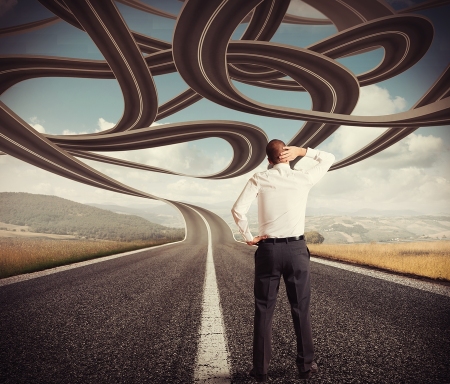 If you find that the complexity and pace of business is accelerating, you're not alone. While we have invented many time-saving tools to help us manage work in a 24/7 world, sometimes it can feel like we're swimming as fast as we can just to keep pace. Getting ahead is another challenge. When's the last time you got something done in advance?
There's a deeper problem here than just getting things done. If you're in any kind of management position, you may have noticed that it's not just the fast pace that's accelerating. Things are getting more complex, more networked, more interdependent. Which means we have to think differently about consequences and the interplay of things. Leaders are more challenged by this complexity than ever before.
More complexity means that cause and effect isn't as simple as it used to be. Sorting out what truly matters from what we can live with and what we know from what we can't know yet is a major headache. Welcome to the world of VUCA where we work in an escalating global environment steeped in:
Volatility
Uncertainty
Complexity
Ambiguity
The futurist Bob Johansen in his book Leaders Make the Future (Berrett-Koehler, 2012) describes a VUCA world. Robert J. Anderson and William A. Adams, authors of Mastering Leadership and founders of The Leadership Circle agree and add a fifth variable: Market Disruption.
In 2010 IBM surveyed 1500 global CEOs about their challenges and strategies for coping (Capitalizing on Complexity: Insights from the Global Chief Executive Officer Study). Here are the top two challenges of CEOs:
Escalating complexity
Building the creative capacity in leadership to deal with it.
And that is the biggest challenge of all for leaders. Because working faster, longer, and harder isn't going to help unless we can handle the complexity. Pace and complexity are not likely to diminish. There's no promise for a calmer future, even with innovative time-saving tools that promise to do more with less.
"Developing leaders who can navigate complexity is now a strategic priority —and, if done well, a competitive advantage. Beyond developing competency and capability, we need to develop leaders with courage and compassion, consciousness and character." ~ Authors Robert J. Anderson and William A. Adams, Mastering Leadership: An Integrated Framework for Breakthrough Performance and Extraordinary Business Results
How can we learn to handle complexity? That's an interesting question, isn't it? I'll attempt to address some of the issues in my next series of blog posts. Stay tuned. In the meantime, I'd love to hear what it's like for you in your organization. Give me a call. Or, you can reach me here and on LinkedIn.