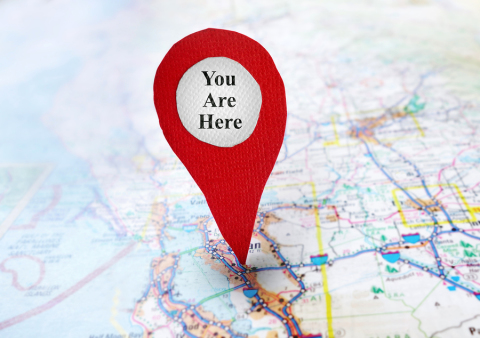 Sometimes setting a SMART goal isn't enough. What I've found in coaching scores of high functioning business people is that goals need to be genuinely relevant, engaging and personal. That's how I came up with setting WAYPOINT goals. A WAYPOINT statement will be:
Written— You are taking the time to write down the WAYPOINT for a number of reasons. When it is written, the thing you are going to accomplish becomes real, tangible, solid and more vibrant! You are less likely to change it than if you just keep it in your head. Once it is written, you can share the statement more easily with your accountability partner or coach.
Aligned— Think in terms of aligning your WAYPOINT with your core values, with the purpose you have for your life, with your other goals.
Yours— Because why would you want to do someone else's stuff?
Planned— Take the time to plan out the steps that it will take to accomplish it.
Optimistic— Do you feel good about your WAYPOINT?  The statement will be expressed in the positive, as our brains don't know what to do with a negative or the absence of something.  For instance, you might set a WAYPOINT to lose 30 pounds, or you could set the positive of weighing 170.  Our brains can visualize and understand what 170 will look like, but has a hard time with the negative.  State your WAYPOINT positively; feel good about the direction you set for yourself!
Imaginative— Imagine the possibilities! The most inspiring waypoint statements are those that really set your imagination on fire — steps that take you closer to realizing your wildest dreams.  The more creative you are in your thinking about what you want, the more likely you are to achieve things you never thought possible.  Give yourself permission to think really big, and imagine what you could do if there were no limits.
Newsworthy— When you get there, don't you want to share your accomplishment with someone?  Even yourself?
Trackable— You want to set a time boundary for when you will take the next turn and then track your progress.  Think in terms of that little car icon that traces your progress on your GPS in your car, or that little airplane on the map that some airlines use to show your progress. You are here, now. Where will you be in a month? Three months?
Once you have a good, solid WAYPOINT statement, don't stop there. In the goal setting worksheet I published in an earlier post, there are other crucial things to clarify. I'm reprinting the worksheet here in case you missed it. For example, starting on the right, in a clockwise direction, answer the "So What?" challenge.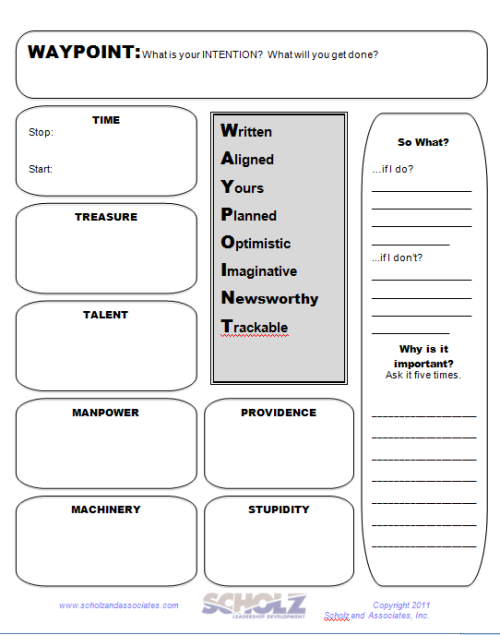 I'll take you through the rest of the sheet in my next post. In the meantime, feel free to contact me if you want a digital copy of this handy goal setting tool. I'd love to hear from you. You can reach me here and on LinkedIn.