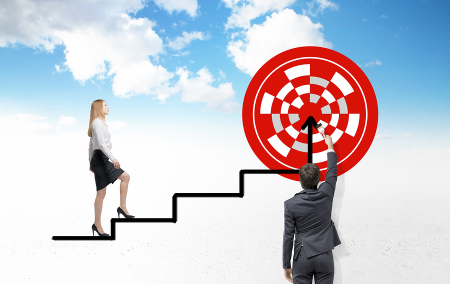 I'm been writing about SMART goals, Stretch goals, and different systems that work when it comes to being focused, productive and more importantly, on task for what truly matters to you. Most people are familiar with SMART criterion:
Specific – target a specific area for improvement.
Measurable – quantify or at least suggest an indicator of progress.
Assignable – specify who will do it.
Realistic – state what results can realistically be achieved, given available resources.
Time-related – specify when the result(s) can be achieved.
SMARTWAY goals have additional criterion. WAY stands for goals that are Written, Aligned and Yours. The WAY was added by a colleague of mine to soften up the goal setting process.
Written – Goals are clearly written down in first person, as in "I will…"
Aligned – Goals are aligned with a purpose, a mission and with core values
Yours – You own these goals independent from outside influences or a desire to please others
In all the times I have asked people, "What is success for you?" no one mentions the house, the cars, the plane, the beach house or any of the material things. The closest people usually get is "financial security" or "financial freedom." Someone always says "happiness." Someone always says "great kids," "happy marriage," "good friends." Those are the kinds of thing that WAYPOINTS are designed for.
The Problem with Goals
The problem with goals, as we have come to understand them, is that they are finite. They work really well for hard-bitten, business goals like "Make a million in FY 16." They don't work well for all the soft stuff. WAYPOINTs were designed for the soft stuff.
Another problem with goals is that they are usually imposed on you by some higher authority. If not imposed, at the very least they're highly influenced by external voices and even inner judgments on what you've  accepted as important.
In other words: "Your business unit has to make $50,000 in FY16".  It was set for you by an outside agency. It is often set to please someone else. It is never personalized, therefore it is not a part of what you do. It is in addition to what you do.
There is a big problem with that. Goals, when externally influenced, never become a part of your behavior system and so they remain external. WAYPOINTs are inherently YOURS. They spring from your priorities, so they are a part of your life.
I also find goals to be systemic, parental, rigid. WAYPOINTs are inherently intrinsic, yours. This may be why goals may work for some people, but not for all people.
Here's an example. I run a leadership academy for a company in Florida, and have the last seven years. It is a three year program. In year one, WAYPOINTs and SMARTWAY are both taught. I have a bunch of architects and engineers in the program, and had originally made the assumption that engineering brains would prefer SMARTWAY. Some people really like WAYPOINTs and some people really like SMARTWAY goals. It is about 50-50.
WAYPOINTs were designed for the kind of goals that don't fit SMARTWAY parameters.
Developmental or learning goals such as "be a better public speaker."
Leadership goals like "gain executive presence."
Relationship goals like "have date night with my husband every Friday night."
Fitness or health goals like "go to the gym three times per week."
In my coming series of post on goals, let's explore these issues. And I'll give you my WAYPOINTs goal setting system. What system do you use for setting goals, and how do you ensure goals are really yours? I'd love to hear from you. You can reach me here and on LinkedIn.