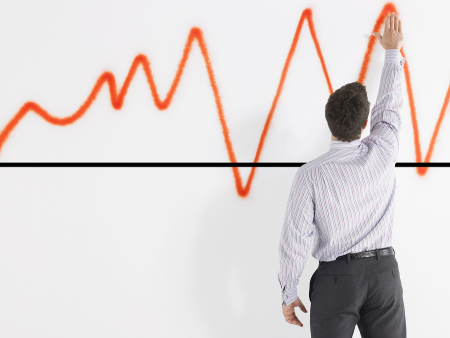 Sometimes SMART goals aren't enough. Most of the time organizations innovate and grow because of stretch goals. People in all industries and businesses from small to large global corporations love working with the SMART system to ensure goals are specific, measurable, achievable, realistic and time-bound. But simply focusing on SMART criterion doesn't necessarily translate into profits.
Workers love the SMART system because it gives them such a powerful sense of accomplishment. But SMART goals can trigger our need for closure in counterproductive ways. Crossing off goals becomes more important than asking if we're doing the right things.
In the new Charles Duhigg book, Smarter, Faster Better: The Secrets of Being Productive in Life and Business, (Random House, 2016), the author describes former GE chief Jack Welch's trip to Japan in the 90s.
The Japanese government had wanted to develop a fast train to decrease travel times and improve the economy. They issued a challenge to engineers to achieve 65, then 75 mph, eventually succeeding with the bullet train in 1964 with an average speed of 120 mph. That achievement was critical to Japanese economic growth well into the 80s and beyond.
Welch returned with ideas that would catapult results for GE. Going forward, every executive would have to identify a stretch goal besides their SMART objectives. Everyone had to participate in "bullet train thinking."
Stretch goals mean using dreams and ambitions to set business targets. In order for this process to be productive, the goal has to be really big with no real idea of how to get it accomplished. If you do know how to get it done, then it's not a stretch target. Six months after Welch's trip to Japan, every GE division had a stretch goal. The division manufacturing airplane engines announced they would reduce the number of defects in finished engines by 25 percent. But Welch told them to cut errors by 70 percent, and to do it within three years.
The story, as told by Duhigg in Smarter, Faster, Better is revealing. The only way managers at GE could achieve such a stretch goal would be to change how workers were trained, which workers would be hired, and how the factory would be run. By the time they had succeeded, the plant's managers had collapsed organizational charts, redesigned job duties, and shifted hiring processes.
"The stretch goal set off a chain of improvement across the division. By 1999, the number of defects per engines had fallen 75 percent, they went 38 months without missing a delivery, and the costs had dropped by 10 percent every year. No SMART goal would have done that." ~ Charles Duhigg, Faster, Smarter, Better.
Numerous studies have found that forcing people to commit to ambitious seemingly out-of-reach targets can stimulate incredible results in innovation and productivity. A parallel concept is called "big, hairy audacious goals," or BHAGS, proposed by James Collins and Jerry Porras in their 1994 book entitled Built to Last: Successful Habits of Visionary Companies.
"A true BHAG is clear and compelling, serves as unifying focal point of effort, and acts as a clear catalyst for team spirit. It has a clear finish line, so the organization can know when it has achieved the goal; people like to shoot for finish lines." ~ Collins and Porras, Built to Last: Successful Habits of Visionary Companies
When is the last time you sat down and set a stretch goal? It may be just the thing to reignite that creative spark and increase energy. What's been your experience? I'd love to hear from you. I can be reached here and on LinkedIn.