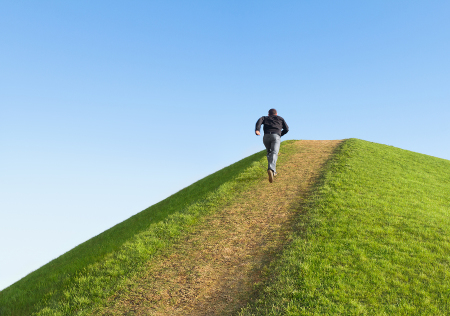 Effective leaders promise to lead effectively. To summarize some of the leadership gems in authors Robert J. Andersen and William A. Adams book Mastering Leadership, senior executives must fulfill the promises that are expected of all leaders: 1) set the direction for meaningful work, 2) engage commitment and accountability for performance, and 3) establish processes and systems so everyone focuses on execution. Ultimately, these three promises lead to the 4th promise, which is quite simply, to lead effectively.
Yes, but what exactly does that mean? The first three are obviously the ones leaders work on most often in leadership development efforts. They are the transactional competencies of leadership taught in business schools everywhere and included in most leadership training courses. The 4th promise is another matter altogether, more difficult to undertake, yet more profoundly influencing all other leadership competencies.
To be effective, leaders must engage in their own personal development, improving their conscious competence, self-awareness, other-relatedness, and growing in ways that are transformative. We expect our leaders to be wise and to evolve continually. The bar gets raised every year and without commitment to enhancing personal and professional development, leaders lose competitive advantage and cannot drive their people and their companies to excellence.
When leaders don't invest in their personal development through coaching, training and ongoing learning, they fail to meet the increasing demands of today's business environment, and they fail to deliver on the first three promises.
Without personal and professional development leaders stagnate. As Marshall Goldsmith says, "What got you here, won't get you there!"
Leadership development must proceed at a pace consistent with what it takes to stay effective and relevant in today's complex, rapidly changing business environment." ~ Robert J. Andersen and William A. Adams, Mastering Leadership: An Integrated Framework for Breakthrough Performance and Extraordinary Business Results, Wiley 2015.
If a leader wants to grow the company he or she must commit to growing as an individual, that's a given. Yet few leaders I know regularly set priorities for their professional growth. Even those engaged in coaching, often struggle to keep their appointments, and do the work for self awareness. Too many of us – like those executives – are so mired in the day-to-day we fail to think long-term, and fail to take actions today unless we see immediate payoffs.
If you're not growing – if you're not making progress on identified gaps in your self-awareness, strengths, and abilities to cope, you are not simply standing still. You're regressing. And, most likely you will falter at some point under stress, under a fine-line ethical dilemma, under a delicate choice and make the wrong decision. You won't see it coming until it's too late. When you do, you'll know you're in your blind spot, and you'll recognize it because it's been with you a long time.
When you fail to make use of coaching, or training, or other tools of personal growth, you're creating conditions for failure and you can't lead effectively. You're breaking all the promises of leadership that so many depend and expect you to keep.
I'm not saying this because I'm in the field of helping people to grow. I'm saying it because you won't "get there" by standing still. Eventually the pace of business will catch up and exceed your capacity to handle it all.
What's your opinion? Am I making sense? Love to hear from you; I can be reached here and on LinkedIn.