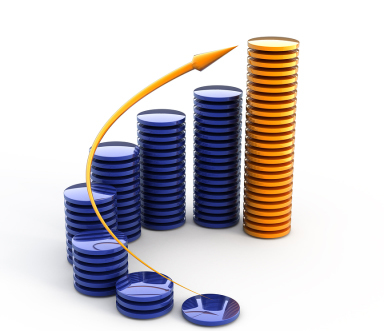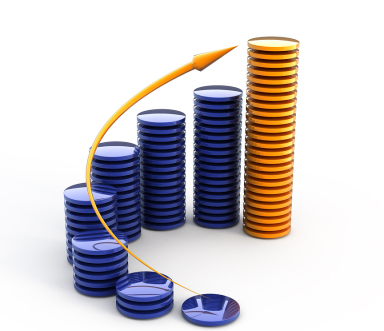 I've been intrigued by the impact of employee engagement on financial results. It's long been my opinion that a focus on values and purpose drives financial results. From what I'm reading, employee engagement isn't just a way for managers to assure that people at work aren't wasting your time or your money.
Engaging leaders who engage others are not just a nice to have—they are the key ingredient to creating a culture of engagement that sustains business results in an ever-changing and complex global environment. ~ Aon Hewitt, Human Resources Consultancy
According to the Aon Hewitt 2015 Trends in Global Employee Engagement, the financial implications of an engaged workforce are significant. There are consistent, statistically significant relationships between higher levels of employee engagement and financial performance. In previous studies, they found that a 5% increase in employee engagement is linked to a 3% increase in revenue growth in the subsequent year.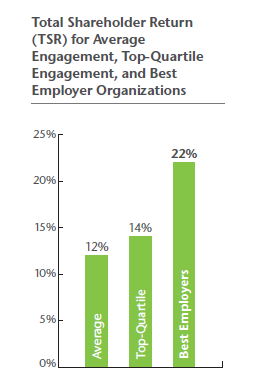 This chart to the right illustrates the 2015 trends of engagement and Total Shareholder Returns (TSR):
The graph shows that top-quartile engagement and Aon Hewitt Best Employers status are related to total shareholder return, but that best employer status is linked to exponentially higher TSR than that of the top-quartile engagement companies—best employers drive an incremental 8 points of return to shareholders, resulting in 57% higher returns.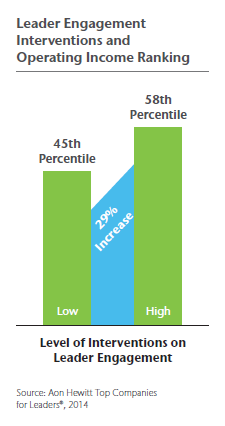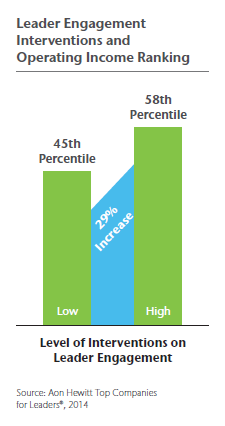 As the graph to the left from Aon Hewitt Top Companies for Leaders® study illustrates, companies that invest significantly in leader engagement have significantly higher operating income than those that do not.
Creating a culture of engagement requires pulling multiple levers and navigating many organizational stakeholders. As one leader in an Aon Hewitt Best Employer organization put it, "Go big." Silver bullets do not work and relying only on HR or the manager is insufficient. This type of holistic approach is difficult, but engaging thousands of individuals can be accomplished through leader-led efforts. Leaders make engagement happen.
 Leaders Set Direction and Meaning
The executive team is responsible for setting direction, defining the vision and the strategies needed for a business to sustain growth and profit. From direction and meaning flow the organization's identity or brand. In doing so, leaders answer the question "What is that we do uniquely as an organization to contribute to the world?"
In my experience, not enough leaders approach this question as profoundly as is required to spark inspiration in the hearts of individuals and work teams. Since we work to find more than just a paycheck, we need clarification around the meaning of our work. If anyone is going to invest their life's blood – time, talent and energy – into an organization, leaders need to set the context for how work contributes to a higher purpose.
Only then will individuals have a clear line of sight into how their work makes a difference. If managers are so busy with focus on financial goals and haven't paid attention to engagement factors, they miss the boat. What's the major emphasis where you work? Employee engagement? Setting direction and meaning? Or meeting financial results?
I'd love to hear what you think. I can be reached here and on LinkedIn.