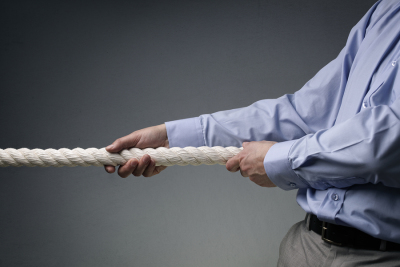 As a leader, which human capabilities at work do you value most? How do you try to motivate people? I've been thinking about how leaders communicate different values to motivate their people to perform. In some cases, they stress how vital it is to follow the rules and regulations. In others, they emphasize quality control and careful diligence. In still others, they recognize and promote employee learning.
These are all good and necessary values, but in my opinion, they don't really do much for inspiring people to unleash their inherent passion or potential for high performance. Then, in reading What Matters Now, author and Professor  Gary Hamel, describes a simple framework – similar to Maslow's Hierarchy of Needs – that elucidates different kinds of human capabilities at work.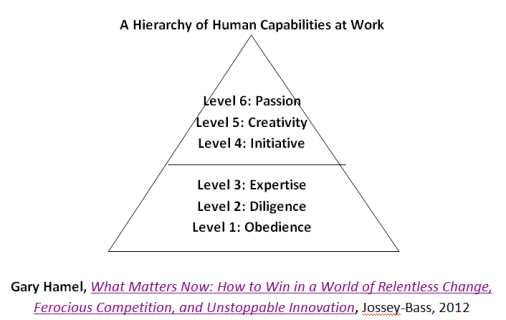 At the bottom of the pyramid you have obedience. Employees show up every day and follow all the rules and procedures. Obedience is important because you couldn't have large-scale enterprise without it.
On the next step is diligence – people who work hard, stay until the job is done and take personal responsibility for delivering results. This too is critical and you can't build a successful company without it.
Next is intellect, or personal competence where people have skills and are well-trained to do what's needed. Such people recognize they will have to learn continuously.
Hamel explains: If obedience, diligence, and knowledge are the only things you're getting from your employees, your company will lose. Those qualities can be commoditized and outsourced to countries with a surplus of well-trained biddable workers (China, India, Indonesia, for example).
Since this is not going to work in building an effective workforce, what will? Hamel says leaders must move up the pyramid beyond expertise. Search for and encourage initiative in employees. Look for those people who spring into action whenever they see a problem or an opportunity, who don't wait to be told, who aren't bound by a job description and who are willing to be proactive.
Next is creativity. Look for employees eager to challenge conventional wisdom and traditional thinking. Who are the mavericks who are always hunting for better ways to do things and great ideas that can be imported from other industries?
Finally, at the top of the hierarchy of capabilities is passion. Leaders search for those employees who see their work as more than just a job. These people see work as a calling, a way to make a difference in the world.
The qualities at the top will create the most value in a workforce. Audacity, imagination, and zeal are the values that contribute to an organization's competitive advantage. The problem is, though, you can't command it. You can help coach someone to reach their potential, but these are gifts that only people can decide to give.
How do leaders and managers build organizations that deserve these extraordinary gifts that people could bring to work? I keep saying it, and although it may appear simple, it's not being done: The most important task for any manager today is to create an environment that inspires exceptional contribution and that merits the passion, imagination and initiative of people.
I'll close with two great insights from Hamel:
The human capabilities that matter most in this creative economy are those that are most difficult to "manage."
Managers need to shift their focus from "managing," to "unleashing."
What's happening where you work? I'd love to hear what you think. I can be reached here and on LinkedIn.