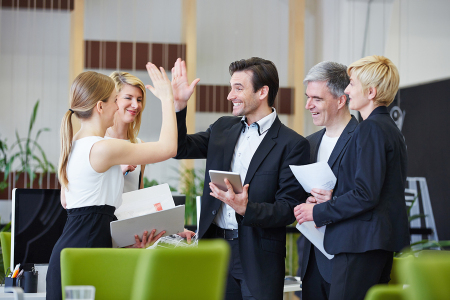 Smart leaders pay attention to ways to spark passion at work every day. You might think that's low on the list of to-do's for busy managers with too much on their plate. But think about it: when people love their jobs and are intrinsically motivated for their own reasons, they'll go the extra mile for you, for their teams and for the company.
I've seen this happen often in small or family-run businesses, but also in some large corporations. Not just in response to threats and crises, people inherently want to solve problems for the pleasure of it. They naturally try to find sustainable ways to do their work  that contribute to the competitive advantage of their organizations.
Then, you might ask, how come that isn't happening where I work?
Because so often, drive gets squashed in people. There are rules, there are the "way things are done around here." There are managers pressured to achieve numbers who forget that people aren't machines. And busy managers who don't find time to listen to people.
In some places where I coach, I see people pulling together and helping each other. Passion is contagious and it infects others around you so that people want to work and collaborate with you. But then, so is negativity… That's why leaders should actively look for ways to ignite passion in daily work.
Passion at work comes out when people believe that what they are doing in their daily tasks means more than profits. When they see that what they accomplish has an impact, not just in their team, but on the business, for customers and for the community, they become energized. But often, they don't see that or they don't realize it. Managers aren't talking about it.
Leaders can help individuals connect their daily tasks to the bigger picture.
In The Open Organization: Igniting Passion and Performance, Jim Whitehurst, CEO of Red Hat, provides five leadership tips:
Passion is contagious. Begin to personally display emotion, and others will follow.
Most companies have a stated purpose or mission. If it does, make sure you integrate it into your dialogue with others as part of your daily discourse.
Add passionate words to your vocabulary at work, like "love" "hate" "excited," or "upset." Others will start to use them if you do.
Add questions to tease out passion when you interview. "What inspires you?"
Create vehicles for people to show their unvarnished selves. Company outings or team-building events need to allow for some silliness.
What's happening where you work? Is any attention paid to excitement? How well do your leaders recognize and reward passion? I'd love to hear what you think. I can be reached here and on LinkedIn.