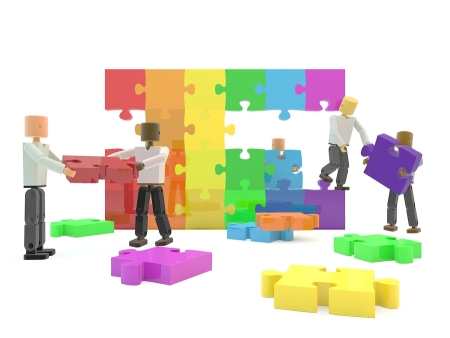 As I said in my previous post here, if leaders want to fire up passion at work, it all starts with a clear and meaningful purpose. Having a purpose gets people to do the right things, and then passion motivates them to give extraordinary performance.
To put it bluntly, the most important task for any manager today is to create a work environment that inspires exceptional contribution and that merits an outpouring of passion, imagination and initiative. ~ Gary Hamel
One way to infuse passion into a workplace is to hire for it right from the start. But there are others ways when that's not possible. Let's review some strategies for boosting passion at work, starting with the hiring of new people.
How to Hire for Passion at Work

How many people do you know who are so passionate they have a company logo tattooed on their body? Admittedly, certain companies involved in software, social media and video gaming are more likely to have young, cult-like followers. Red Hat, the open source Linux technology company, is such an example, as well as Razer, the gaming hardware developer.
The point here is that when people are truly passionate about their interests and values they eagerly express it in many ways. These companies and many others like them encourage a "raving fan" like attitude with both employees and customers. But it doesn't happen unless leaders provide a platform to let it happen. And it all starts at the hiring process.
How do you find people who believe in the same things you and your company does? You probably won't find them using the same conventional interview questions people have become accustomed to. You'll need to do more than determine someone's skills, education and experience. You need to find if someone is truly a fit with others.
It's hard to tell if a candidate is excited because she desperately wants a job or she truly desires a job at your company. Most likely the best people to gauge true passion, interest, and fit are future peers, the people with whom they'll be working.
When W.L. Gore, the makers of GoreTex, makes hiring decisions, it looks for candidates who are driven but not by desire to climb the corporate ladder. Gore relies on teams of its associates during the hiring process.
An advantage to involving associates with interviews is that they become active in referring friends and potential candidates. They can find valuable new people for the business. The more you get staff involved in the hiring process, the more likely they'll find people who are a natural cultural fit for your company.
Then find out how candidates interact with others. How important is collaboration to them? Assess for curiosity in others, big picture vs. little picture vision, as well as outside interests and values.
When you stick to traditional interview questions —"Tell me about a situation where you failed?" — most people have scripted answers. This tells you little about what they truly care about. The more unconventional questions will elicit unscripted responses that tend to be more genuine. You want to find people who care about the things your people care about.
By asking both macro- and micro-level questions, you can see a candidate's vision for themselves in finding a meaningful job for themselves.
Does this sound like something that happens at your company? What's your opinion? As always, I'd love to hear what you think. I can be reached here and on LinkedIn.