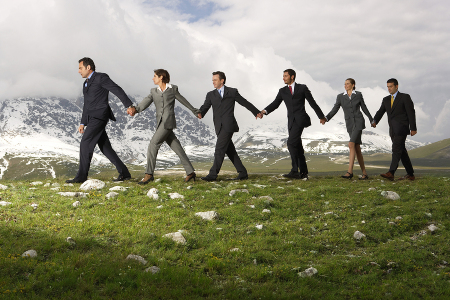 Are you leading with purpose? Most leaders I know are full of passion. They don't understand why their workforce isn't. Why don't employees really care more? Many are frustrated by attempts to bring out the passion and sense of purpose in their workforce.
It's no secret: people who are intrinsically motivated for their own sense of satisfaction, values and purpose are likely to achieve more than those who are externally motivated by incentives. Yet leaders are stymied about how to stimulate that sense of personal motivation in a workforce that reports two-thirds are disengaged.
How do managers and leaders ignite passion in people? Here's my take on it, after a long career in corporations and even more as a consultant/coach in both large and small companies.
It Starts with Purpose
If you haven't clearly articulated the "why" of your business, it will be hard for people to engage in doing "what" their job requires. I'll take that further, if each employee doesn't know why their job contributes to the purpose of the organization, and if they can't clearly articulate that purpose, then you haven't got their whole hearted participation.
Business has a much broader positive impact on both employees and customers when it is based on a higher purpose that goes beyond generating profits, creating shareholder value, and being number one in sales. A compelling sense of purpose catalyzes creativity, innovation and commitment in everyone.
Purpose is not a goal but a reason to exist, a reason to show up every day and give your best. People are most fulfilled when their personal values and interests align with that of the company they work for. But if the leader isn't frequently reminding everyone about that higher purpose, people get wrapped up in the day-to-day doing and forget the reasons to care.
Corporate and business purpose must be expressed frequently and acted upon in everyday work life or people lose that focus as work becomes routinized.
I always ask the executives with whom I coach questions about their personal purpose as well as career purpose and business purpose. There's often a delayed response as people search for meaningful answers that reflect current reality. That's usually a good thing because it means people take the question seriously. The more important follow up questions — and always more difficult to answer — are:
"When's the last time you mentioned your or your company's purpose to others?"
"How often do you inquire about others' sense of purpose both personally and job-wise?"
"What have you done today to express purpose?"
"What goals or activities have most aligned with purpose this week?"
Purpose must be frequently spoken otherwise it just becomes words on a poster. AND, purpose without action is just rhetoric. Sounds nice. But does it really ignite passion in anyone?
What's your opinion? As always, I'd love to hear what you think. I can be reached here and on LinkedIn.