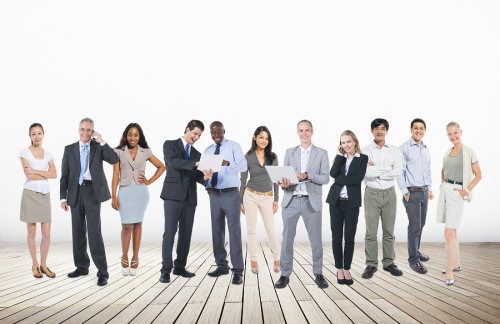 When you think about it, inspiring and unleashing employee engagement should be the  number one job of managers. Ask any manager, however, they'll tell you their biggest job is managing people, putting out fires, and tracking performance.
It's not surprising that people who are truly engaged in their work account for only 15% to 30% of employee workforce surveys. What always surprises me, however, is how little we hold managers and leaders responsible for lack of engagement. If you're a doctor, lawyer, or any kind of professional with less than a third success rate with clients, you'd not be in business long.
When leaders of companies say that "employees are our most important assets," it's somewhat misleading (not to mention demeaning), if only a small percentage of them feel valued enough to care about their work. The fact is that we don't look to employee well being as a measure of a leader's success. We look at the bottom line results.
Imagine what companies could achieve with a workforce where 50% or 75% of people loved their jobs and gave their best efforts? As Gary Hamel says in What Matters Now?…
If we're going to improve engagement we have to start by admitting that if employees aren't as enthusiastic, impassioned, and excited as they could be, it's not because work sucks; it's because management blows.
Clearly, if we're going to engage our people, leaders in every field need to rethink their fundamental assumptions about managing people. If we're going to create organizations with the agility required for competitive advantages in the 21st Century, we can't treat employees as assets or machines. We can't plug people into job descriptions and require them to conform to rules and regulations and expect them to "perform."
Most large organizations put their structures and strategies first and employees last. A few pioneering companies are reversing this to put employees first (HCL Technologies, for example). They know that company success depends on unleashing creativity, initiative, passion, and energy in people. They strive to become human-centered organizations.
It requires a major mindset shift for most leaders who've been trained and experienced in traditional management practices. They must start to trust employees, let go of control, and hand over responsibilities and decisions to people further down the hierarchy. They have to learn how to do this, and it often doesn't come easily. And, of course, they're still responsible for profits and to shareholders and their Boards.
The fact is that today's workforce isn't going to accept the way business was run in the last century. The internet was perhaps more influential that we expected, with its open-sourced contributions and egalitarian values. We use the Web to express opinions, expose misdeeds of the powerful, build online communities and launch new grassroots initiatives.
Because of this influence, we have become less tolerant of closed top-down power structures. Today's workforce and the Millenials expect more autonomy and freedom that our parent's generation. Leadership has to adapt to this fact.
Low-trust, low-engagement companies will never unleash employee engagement. Talent will go to waste. Controls at best will yield performance of the status quo, but it won't inspire creativity or allow for initiative.
As a leader, what can you do to make your company feel more like a community and less like a hierarchy? It doesn't necessarily have to start with some large organizational change program. It can start with a conversation.
What's your opinion? As always, I'd love to hear what you think. I can be reached here and on LinkedIn.