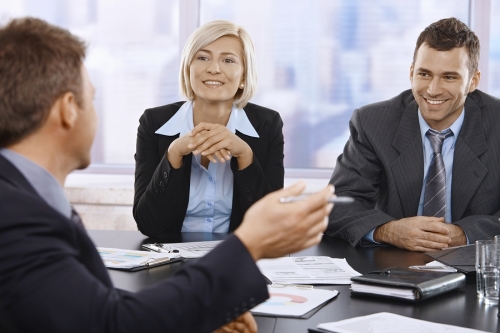 Where can you find more engaged employees? It seems to me that people working in privately held companies and small businesses are more likely to be values-driven, impassioned and committed than those in corporations. But that's just my experience. I can't find any research on this. What do you think?
I'm often consulting and coaching in family-owned or smaller companies that don't answer to Boards or shareholders and the level of commitment I see is often outstanding. These companies have engaged employees who appear to be more empowered, energized and interested in their work. I'm wondering what the difference is.
Most employee engagement studies have been done in global public corporations. The key factors that determine workplace engagement, according to the Global Workforce Survey done by Towers Watson over the last decade include:
The ability to participate in decision making
The encouragement given for innovative thinking
The availability of skill-enhancing job assignments
The interest shown by senior executives in employee well-being
If you're not familiar with the survey results, here's a recap:
One-fifth (21%) of employees surveyed were truly engaged
Nearly four out of ten (38%) were mostly or entirely disengaged
The rest were in the middle
Other surveys reveal similar data, such as the ones done by Gallup. This isn't big news, we've known about this for at least 15 years, perhaps even more. What's surprising, however, is how little managers and leaders are scandalized by these figures. Sure, everyone laments the numbers. But instead of being shocked or catapulted to do something about it, everyone turns their attention to the bottom line. But these survey results are actually financially important. According to the Towers Watson report:
Engaged employees outperform their non-engaged coworkers. Once viewed with some skepticism, that statement is now widely accepted as fact, thanks to a growing body of evidence over the past decade that validates the quantifiable relationship between levels of organizational engagement and financial performance.
Every year employees are surveyed and the results are similarly dismal. Now, it would be easy to blame those stinking employees and their bad attitudes, wouldn't it? But to me, these surveys say more about stinking management than anything else. If people aren't engaged, it's up to us to do something about it. But many manaagers haven't yet grasped the impact of engagement to financial results.
Companies that score highly on engagement have better earnings growth and fatter margins than those that don't. This correlation between enjoyment and profitability is likely to strengthen in the coming years. That's because companies are faced with rapid commoditization of knowledge and products and success will depend on people to be innovative, energized and willing to go the extra mile. As Gary Hamel writes in What Matters Now:
Success depends on a company's ability to unleash the initiative, imagination, and passion of employees at all levels, and this can only happen if all those folks are connected heart and soul to their work, their company, and its mission.
And this last quote from Hamel puts the responsibility for employee engagement where it belongs:
If we're going to improve engagement we have to start by admitting that if employees aren't as enthusiastic, impassioned and excited as they could be, it's not because work sucks, it's because management blows.
I don't think disengagement is only a problem in corporations. But I do think that smaller privately held companies are more likely to communicate values and passion better, perhaps due to fewer layers of bureaucracy. But since there doesn't seem to be any studies about this, I only have experience and anecdotal evidence.
As always, I'd love to hear what you think. I can be reached here and on LinkedIn.