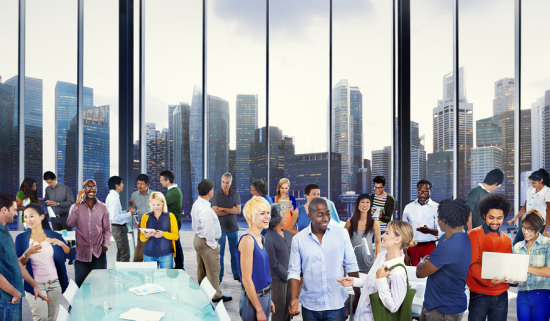 Don't overlook the value of simple human interactions and social relations in your company if you want your people to innovate. Successful innovations are novel, non-obvious, and useful — all commonsense criteria and requirements for a patent. To stimulate new thinking, you need to foster intuitions and insights, as I've been posting about. The more individuals use intuitive thinking and creative insights, the more they will produce fresh ideas and solutions relevant to business problems.
This is key because if a business isn't innovating, it's stagnating. And at the rapid rate of change in today's marketplace, you risk becoming obsolete quickly, as Kodak, Blockbuster and others have experienced.
Every executive I work with is concerned — and rightly so — their business isn't producing enough cutting edge products and services to stay ahead of the game in their industry. What else should you be paying attention to if you want your people to innovate?
I haven't yet mentioned one big essential to success in companies who innovate: human interactions. If you want your company to innovate, you need to foster interactions and conversations among your people.
But wait a minute, how do you do that if some of your staff work from home or on the road? It turns out, this is a bigger problem than anticipated, even with 24/7 communication technology.
When Marissa Mayer took over as Yahoo's CEO in 2012, she faced hard challenges to turn the failing internet company around. Of all the bold programs of acquisitions, divestitures and new strategies, one announcement almost created a revolt.
"We're asking all employees with work-from-home arrangement to work in Yahoo offices…Some of the best decisions and insights come from hallway and cafeteria discussions, meeting new people, and impromptu team meetings."
Mayer was heavily criticized both by personnel and the media but she didn't back down. Yahoo was in a life-or-death struggle and needed the most creative new ideas it could find in order to respond.
She was right and there are plenty of research studies that confirm this. The best way to find new solutions is to bring humans into close physical proximity where they can interact face-to-face.
Mayer probably understood this from her time at Google. That company is fanatical about forcing people to connect in person. They offer free food in their lunch room, make sure employees go to the cafeteria and have to wait in line so they'll talk with one another. Long tables are set up so that people will intermingle.
What scientists are learning is that the more people interact and engage in conversations, the more ideas flow and there is a corresponding boost to both productivity and creativity.
As for people who work from home, that's another challenge which might possibly be helped by new technologies, video conferencing or bringing people back into the office more regularly. Yet nothing is better than face-to-face interactions.
So I ask you this: What are you doing in your company to foster sociability and conversations? I don't mean by this you hold more after-hour events. But some things — such as enhancing the cafeteria or lunch room, making the tables bigger, or closer together — do have a huge impact on getting people to interact and be creative.
What are your ideas? I'd love to hear from you. You can contact me here and on LinkedIn.