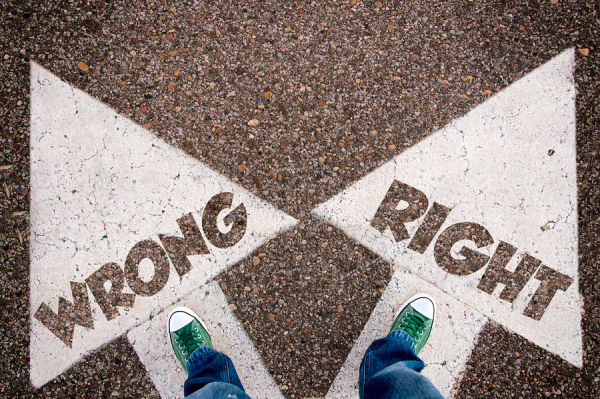 A sensitive leadership challenge I've seen in organizations involves ethical decisions. Leaders are in a position to object to policies when they foresee problems, but often don't. You may be aware of questionable practices and choose to not say anything. Little by little, this creates a slippery slope resulting in ethical mistakes, sometimes much bigger than when they started out.
In Giving Voice to Values: How to Speak Your Mind When You Know What's Right (Yale University Press, 2010), management expert Mary C. Gentile, PhD, asserts that being aware of ethical issues and analyzing one's options may be insufficient in today's complex work environment. Most of us fail to take appropriate values-based actions:
Developing scripts for responding to the "reasons and rationalizations" others give for questionable practices
Developing alternative action plans to questionable strategies
Practicing how to deliver said scripts and action plans without invoking others' defensiveness
We must confidently flex our moral muscles and habitually speak up to be true to our values. But when a boss wants to alter a financial report, a sales team misrepresents a product or you witness workplace discrimination, you'll be faced with several key challenges:
What should you say?
To whom should you say it?
When you craft a viable alternative, how can you summon the courage to act on your convictions?
Developing Effective Scripts
Answer the following questions when faced with a values conflict:
Which action/decision do I believe is right?
Will I encounter arguments against this course of action? (List them, and cite the reasons and rationalizations you'll need to address.)
What's at stake for the key parties (including those who disagree with me)? What's at stake for me?
What are the most powerful and persuasive responses to others' reasons and rationalizations? To whom, when and in what context should I make these arguments?
These questions are not about ethical analysis. They're designed to help you understand the reasons and motivations — rational, emotional, organizational, personal, ethical, unethical —that guide one's behavior and choices.
What's been your experience? It's not easy to speak up about values, is it? I'd love to hear your experience; contact me and let's talk. You can contact me here and on LinkedIn.