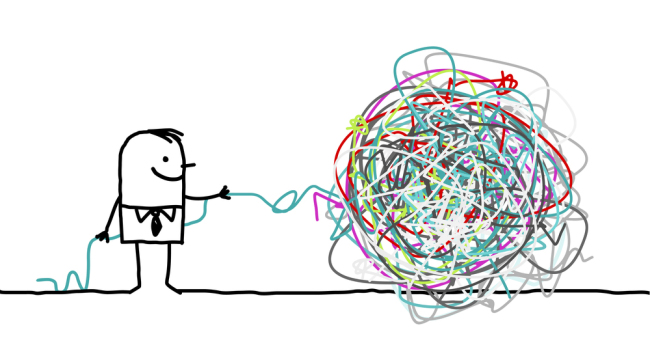 Managers face challenges to get people to perform at their best but often encounter attitude problems. Most managers I talk with report a huge chunk of time spent sorting out interpersonal conflicts due to bad attitudes.
I'm currently reading about such manager challenges in Bruce Tulgan's book, The 27 Challenges Managers Face: Step-by-Step Solutions to (Nearly) All of Your Management Problems. Many conflicts happen because of problem attitudes and behavior styles. Often managers don't know how to deal with such people so they avoid them and end up under managing.
Tulgan's research identifies six types of common attitude problems that have a negative impact in the workplace. Perhaps you are familiar with people like these?
Entanglers
Debaters
Complainers
Blamers
Stink-bomb throwers
Entanglers
I wrote about porcupines in my previous post, those workers who  drive away contact from others. The opposite of a porcupine is an "entangler." They want everybody else to be involved in their issues. They love the attention and encourage conversations, mostly about their work, but communication is not a means to an end, it is the end itself. Their issues often remain unresolved because they don't want conversations to conclude.
The problem is entanglers take up too much of everybody's time and people start avoiding them. However it's a mistake for managers to steer clear of them. They need to be taught focus and concentration on goals. They need regular feedback and direction.
What I appreciate about Tulgan's book are his suggestions that outline action steps. Help the entangler use different words, format, tone and gestures to become more efficient in his interactions. Show him how to be highly purposeful, brief, straightforward and to focus on next steps. Teach him how to wrap up every conversation with clear to-do lists for each party.
 Debaters
Entanglers engage in conversations that go nowhere; debaters always have an agenda. They love taking the opposite point of view and engaging in arguments. As a manager, you don't want everyone in agreement, and raising issues can spur creative dialogue. But there's a point where too much debate is non-focused and counterproductive. When there's a valid issue, however, teach the debater to present a clear case in writing.
Ask people to prepare an executive summary of their argument covering the essential points:
Here's the issue.
These are the options.
This is the option I propose.
This is why my option is best for the business.
Here's what it would cost – money, time, people, other resources.
This is where we could get the resources.
This is what the plan would look like.
Here's the role I propose for myself in executing that plan.
This gets the debater to really focus, trouble shoot the solutions and participate in making changes. Once a decision is made, however, the debate shouldn't continue unless there is strong new evidence.
What do you think about solving these attitude problems with a written plan? I'd love to hear your thoughts on this. Contact me here and on LinkedIn.