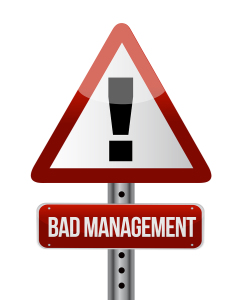 What is going on? I know many of my clients complain about micromanagement and controlling jerk bosses, but this report says there's an undermanagement epidemic.
In 2004 a research study from RainmakerThinking, Inc. revealed an epidemic of undermanagement throughout the workplace. Now, 10 years later their on-going study shows undermanaging is still rampant.  A full 90% of all leaders and managers are not providing their direct-reports with sufficient guidance, support and coaching.
Undermanaging is defined as when a leader with supervisory authority fails to regularly and consistently provide employees with the 'management basics':
Clear statements of broad performance requirements and specific expectations.
Support and guidance regarding resources necessary to meet requirements and expectations.
Accurate monitoring and measuring and documentation of the individual's actual performance.
Regular candid feedback about the individual's actual performance.
Rewards and detriments allocated and distributed in proportion to actual performance.
The real problem lies in the fact that most managers aren't aware they're undermanaging. Five out of ten managers think they are doing an "excellent" or "very good" job managing their direct reports; two more out of ten believe they are doing a "reasonably good" job.
Perhaps in an effort to give people autonomy and empowerment, they've gone overboard. But I think a more realistic answer is that there are fewer managers and people who have to do more with less. Here are some of the causes cited in this report:
The vast majority of managers still cite "lack of time" (due mostly to other non-management responsibilities and increased spans of control) as the number one reason why they don't more consistently practice the basics of management.
The second most cited reason now is "lack of sufficient training" in the best practices, tools and techniques of effective supervision, management and leadership.
Third is "lack of sufficient resources and support." This is a function of increased productivity requirements and tight budgets.
Fourth is "constantly changing priorities."
Fifth is "logistical constraints" such as remote locations, different schedules, and language or cultural barriers.
Yet here's what I think also contributes to the problem: Many managers I talk to have gone from the extreme of command-and-control, all the way over to being too hands-off. According to the report:
We also find another less straightforward set of causes of under-management that are more psychological or philosophical in nature. This is a combination of what we refer to as "false empowerment thinking" (the belief that managers should refrain from asserting authority by being strictly directive or punitive), plus "false nice guy syndrome" (the belief that being strong is tantamount to being unfriendly or will lead to negative interactions or conflict), plus fear of other various potential negative repercussions (such as complaints, bad-mouthing, foot-dragging, sabotage, lawsuits, etc.).
What about in your work as a manager? Are you providing enough direction, support and coaching to your people? Or do you wait for problems before saying anything? I'd love to hear your thoughts on this. Contact me here and on LinkedIn.