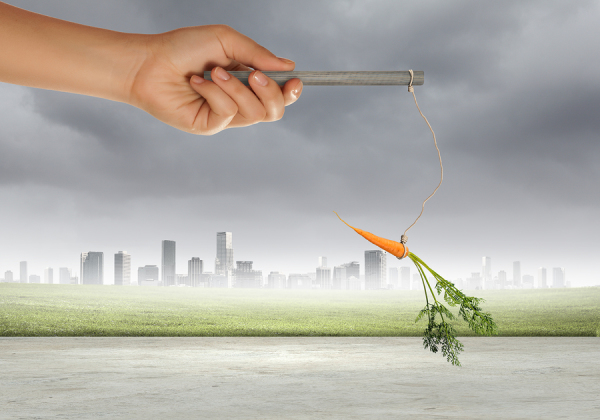 Most business leaders have lost sight of what motivates people at work. In fact, some companies haven't updated their incentive practices in years, which means they're incapable of creating high-performance teams.
Companies continue to ignore the obvious: Offering incentives and rewards is less effective than tapping into truly meaningful intrinsic motivation. Leaders operate on old assumptions about motivation despite a wealth of well-documented scientific evidence.
The old "carrot-and-stick" mentality may actually inhibit employees from seeking creative solutions, partly because they focus on attaining rewards instead of solving problems. If you look at some of the major failures in business, they focused on rewarding short-term results at the expense of sustaining success.
What does work for motivating people? The essence lies in science and what has been shown to be three psychological needs of all human beings:
Connectedness
Competence
This is not new; we've known about what truly motivates people for over fifty years. Yet managers continue to use carrots and sticks through incentive and rewards programs. The core of what motivates people to work is the same regardless of gender, race, culture or generation. It comes down to this: Are our psychological needs being satisfied or not?
I'm reading Why Motivating People Doesn't Work . . . and What Does: The New Science of Leading, Energizing, and Engaging by Susan Fowler. It's a good reminder that all managers need to review from time to time to recapture their motivational mojo.
Autonomy
Autonomy is our human need to perceive we have choices. It is our need to feel that what we are doing is of our own volition. It is our perception that we are the source of our actions. ~ Susan Fowler
As adults, we never lose our need for autonomy. Productivity increases significantly for blue-collar workers in manufacturing plants when they are given the ability to stop the line. So does the productivity of white-collar workers in major investment banks who report a high sense of autonomy.
The problem is that when managers get too involved in coaching, encouraging and pushing people to be productive, they can actually undermine perceived autonomy. It's a fine line that requires Goldilock management: just the right amount.
I'd love to hear your thoughts on this. Contact me here and on LinkedIn.