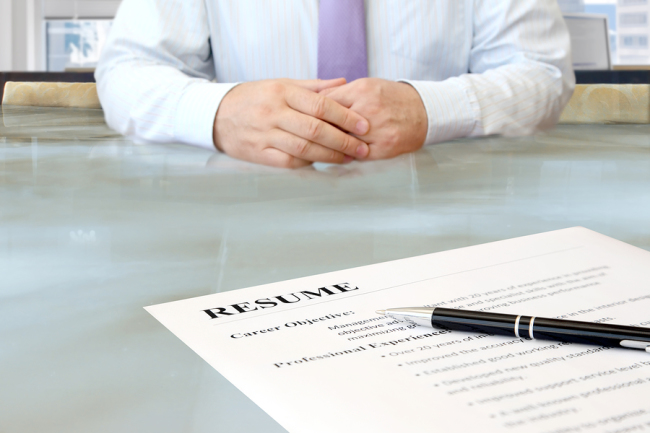 Sometimes you have to turn conventional wisdom on it's ear. A standard resume might get you a standard job, but will it get you the career you want? I was recently in email contact with a client who wanted advice on getting an interview for a job she wants.
Dear Chip:

I would like to apply for a director or VP position in Marketing, and I feel I need more coaching on how to conduct a great interview.  I feel inadequate and would like polishing.
I asked her to send me a copy of her resume for starters. Here is my response:
There are several philosophies about resumes. A prevailing one is to provide a resume like you have done…more of a CV than a resume. It contains a paragraph of what you have done and a chronological listing of the positions you have held, and if you are in the mass market, you will probably do well with such a resume.
However, I don't think you are in the mass market. What you are looking for is a specific, senior position. You may not know what that position is, but it is not a position that is going to be won by putting a resume out there and hoping to get a call back.
Turning conventional wisdom on its ear, I want you to think of it in a different way.  I want you to think more in terms of sales. You are selling yourself, right? If you wait to be called for the position that is right for you, it may be a long wait! You are more or less specific about the position you want—
Who do you want to work for?
What kind of an organization would hire you into the position that you want to work in?
The question, then, is not what kind of resume should you write for all situations, but what kind of situation do you want—and then write a resume for it.
Step 1—If the job you want could talk, what would it say?

What specific companies do you want to work for?
What does your ideal position look like?
What kind of person do you want to report to?  What is important to you in a position?
Do you like to be managed closely or more autonomously?
Do you like to have the support of others to make a decision, or are you comfortable making decisions on your own?
Is gross pay important, or is having the opportunity for a large at risk upside exciting to you?
Do you want a more strategic or operational role?
Do you want to manage others or influence others that you don't manage?
Do you want to manage others that manage others or do you want to manage others that are doing?
If you had to write a job description for your ideal position, could you do it?
Step 2—Identify your strengths and areas of development. Now that you have identified your ideal position, how do you match up to it?

What areas of strength do you bring to the hunt that will benefit you?
What areas might you be challenged with?
Step 3–Identify specific opportunities. Once you have answered all of the questions above, you will have more clarity about what you want…and what you don't want.Now, take the time to identify 10 or more specific opportunities within the companies that you want to work for.

Perhaps there are positions that don't exist yet that blend well with your unique capabilities.
Perhaps there are positions that exist but are not available yet. It is going to take you some time and a lot of phone calls and research to learn this. Remember, you are in the information gathering stage right now, and you are creating relationships.
Perhaps they are hiring managers, perhaps they are decision influencers.  Your first statement should be "I need your help." Four very potent words.  People are more than willing to help you when you ask, it is in our nature.
Step 4—Write the resume to fit the opportunity. A really good resume is a sales tool, telling your future employer what you are going to do for them, what the benefit of hiring you will be. It is not a listing of all the things you have done. Past performance is not a great indicator of future prospects. Tell them what you will do! You have a specific company you want to work with…make the opening paragraph pop with what you will do. No one cares about what your goals are unless they have to do with them!
Change the structure of the resume:
Instead of Personal Summary, title the first paragraph with the position you are seeking. For instance "VP of Marketing." Then write a paragraph that says why you are the person for the job and what makes you different from all of the other candidates.
The next session is a number of bullet points that are personal characteristics that will make you good at the job.
For instance, here are some examples for a customer service position:
Integrative Ability

Able to prioritize critical events while not losing track of less critical ones.
Accurately defines the key elements in problem situations.
Good planner and project scheduler.

Customer Support

Committed to customer satisfaction.
Strong capacity to perceive and understand the feelings of others.
Good listening skills.
Able to resolve different points of view constructively.
Listens to many points of view without bias.

Analytical, Detail Focus

Thorough in execution of responsibilities
Can isolate individual problem components of a situation and remedy them.
Checking the details and making sure they are right is a core skill.

Quality Orientation


Synthesizes and simplifies data, ideas, models and systems.
Develops new ways of resolving complex issues.
Next is a list of professional accomplishments…perhaps 7-10 of the things that you are proudest of. They might be certifications or honors, maybe finishing the Leadership Academy of NCNA!
Then list, in chronological order, your positions for the last 10 or 15 years.  This is merely to show continuity and progression in your career. It is not to list your accomplishments.
Finally, list your education and state references available upon request.
The resume should be 2 pages, 3 at the most. You want to keep it compact and poignant, and you want it to be read.
One thing you may want to consider is adding pertinent pages from your assessment to the package to let them know what they will be getting.
Okay, that is a lot to do.  What do you think? I'd love to hear your thoughts on this. Contact me here and on LinkedIn.