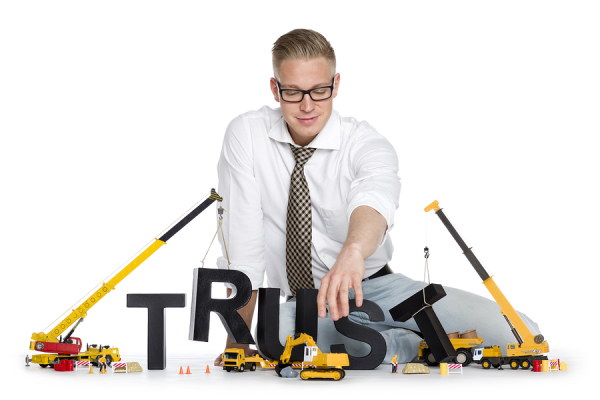 I've been thinking a lot about leading with trust, how important it is to leadership, and how it's probably the one factor you can't ignore if you want to improve as an effective leader. Trust isn't something you can just leave to fate, assuming because you're a trustworthy person, it will naturally show up. Anyone who's been in charge of people knows that trust isn't included as part of your job title; you've got to earn it.
How can you develop stronger trust in your relationships, especially when now days there is more skepticism about leadership in general?
"When it comes to trustworthiness, both mind-sets and skill sets matter," according to authors David Maister, Charles Green, and Robert Galford in The Trusted Advisor.
If you work hard to master these five skills you'll still need to be sincere in your efforts to build trust. Here are the five abilities that you'll need to practice and master if you want to lead with trust:
Listen well
Partner
Improvise
Risk
Know yourself
Listen well: Good listening is required for effective leadership for more than simply gathering information. It's a primary tool for connecting and building relationships. It paves the way for you to be more influential. It requires really paying attention and being empathic. You have to let others know you understand them before they will be led by you. (I highly recommend The Trusted Advisor Fieldbook: A Comprehensive Toolkit for Leading with Trust by Charles H. Green and Andrea P. Howe for exercises and worksheets on improving listening skills.)
Partnering is the second skill to master for building trust and influence. The word is used as a verb and involves collaboration (not competition), working with a commitment to fairness and balance, balancing assertiveness and cooperation, dealing with disagreements, and sharing responsibility for successes and failures.
Improvising is essential because things don't always go as planned. The glitches and challenges can be seen as "moments of truth," and require flexibility, in both thinking and emotional intelligence. As a leader, you'll be stretched at times, but successfully handling moments of truth builds trust quickly.
Risk: There can't be trust without taking risks and extending beyond your safe zone of comfort. Every act of taking risk builds trust when you have the courage to deal with fear and confront situations with curiosity and authenticity. As a leader, you are required to expand your tolerance of ambiguity and exposure. Although hard to master, making decisions to take the right risks at the right time will be revealing.
Know yourself is an important task of all leaders who want to become more effective. Self-awareness is the foundation to emotional intelligence and trustworthiness. If you don't know your strengths and weaknesses, how can you delegate and collaborate effectively? But there are many blind spots that impede developing self-knowledge. I'll talk about this further in my next post.
What do you think about these five skills for improving your ability to trust and be trusted? Let me know what you think. You can contact me here and on LinkedIn.