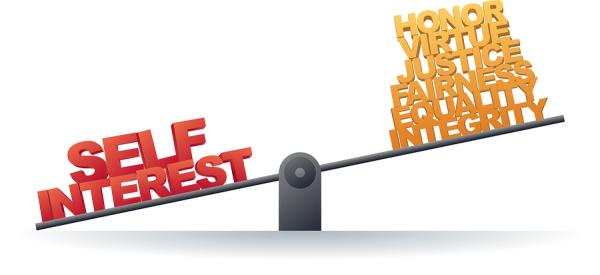 How can executives improve their levels of leadership trust? I'm continuing from my previous posts on how to build up trust. Based on solid research and advice of authors David Maister, Charles Green, and Robert Galford in The Trusted Advisor, we can break trust down to four components:
Credibility
Reliability
Intimacy
Self-orientation
Self-orientation is the degree to which you insert your needs and interests into the relationship equation. This is what salesmen do when they are advised to "always be closing." It clearly can be a trust buster. And it is identified as a significant opportunity for improvement in the trust equation:
Trust = Credibility + Reliability + Intimacy
                        Self-orientation
Simply defined, self-orientation is about focus, more specifically, who you focus on – yourself or others. When you have a low self-orientation, that's a good thing for trust levels. For example, if your partner can say she honestly feels you care about her career and how this project will benefit her, then you demonstrate a low level of self-orientation.
On the other hand, if your partner senses you are keen on getting the sale or focused on getting to your goal, then you have a high-level of self-orientation, which isn't good for developing trust levels. A typical example of someone with high "S" or self-orientation would be the stereotypical used car salesman. However, self-orientation shows up in more subtle ways:
Rushing to a solution.
Hoarding information, resources, and ideas.
Talking a lot, dominating the conversation.
Subtly competing for attention and recognition.
Lower Your Self-orientation
Here's how the authors suggest you can lower your self-orientation:
Take time to find the best solution.
Share time, resources, and ideas.
Ask lots of questions from a place of curiosity to figure out what success for your partner looks like.
Negotiate for a true win-win.
Listen even when it's uncomfortable to be silent.
Speak hard truths, even when it's awkward.
Give your partner the credit.
What helps the most in lowering self-orientation is self-awareness. The better you know your own quirks and weaknesses, the better you can reign in your big ego and focus on others.
Most executives I work with, spend their time improving their credibility (what they know) and reliability (what they do) to build up trust. The hardest, yet most effective way, however, is to work on raising intimacy and lowering self-orientation.
"Herein lies your greatest opportunity for distinguishing yourself in the realm of trustworthiness: Increase intimacy and lower self-orientation." Maister, Green, & Galford
Let me know what you think. You can contact me here and on LinkedIn.