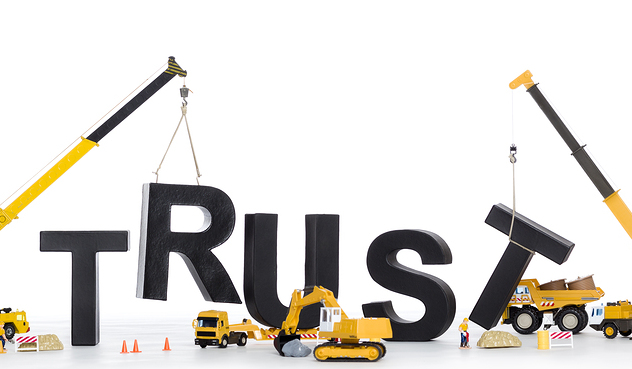 How do you build leadership trust? Most of the executives I work with tell me they know trust when they see it, but not many have a clue about why trust exists, how to build it up, or what happened when trust was lost. The trust equation lays out four components of trustworthiness which makes such things much clearer to deal with. I wrote about this here and here, but now I want to show you how it shows up in conversations.
"Trust is a two-sided relationship: One person trusts, and the other person is trusted. While trusting and being trustworthy are related, they are not the same thing." Maister, Green and Galford in The Trusted Advisor
The authors elaborate on their trust equation which defines trust as being built on four components:
Credibility
Reliability
Intimacy
Self-orientation
To improve your leadership trust and your trustworthiness in any business relationship, you improve the degree of credibility, reliability and intimacy you share with the other person. Self-orientation is a measure of how much you put your interests before those of your partner. To improve your trust levels, you would lower your self-orientation.
Ways to Boost Credibility
Let's talk about the ways you can boost credibility in your business conversations. The gems the authors share in their book The Trusted Advisor are both common-sensical and unique:
Develop deep expertise in your industry.
Stay current with industry trends and business news.
Offer your point of view when you have one.
Be willing to say "I don't know," when that is an honest answer.
Express passion for your subject.
Communicate with self-assurance: a firm handshake, direct eye contact, and a confident air.
Ways to Boost Reliability
While credibility is expressed in words, reliability has to do with actions. It is your degree of consistency, predictability, certainty. You boost reliability when you:
State expectations up front and report on them regularly.
Make lots of small promises and consistently follow through on them.
Are on time.
Communicate if you fall behind, and take responsibility for it.
Use others' language, templates, dress code, and so on, respecting their norms and culture.
Ways to Boost Intimacy
Most executives wonder what the word intimacy has to do with conversations and business relationships. It has to do with the degree of safety you feel when entrusting someone with something. All trusting relationships involve a risk to a certain degree. Here's how you can promote intimacy:
Listening beyond the words to pick up on tone, emotion, mood, and acknowledging those elements out loud.
Telling someone what you really appreciate about him, rather than keeping it to yourself.
Using a person's name.
Sharing something personal about yourself, which makes you more human and more interesting.
"The risk to build trust in the first place typically shows up in the intimacy variable." Maister, Green, and Galford
Of course, I highly recommend The Trusted Advisor for anyone wondering how they can become more effective as a leader. It's all about building trusted connections.
Let me know what you think. You can contact me here and on LinkedIn.