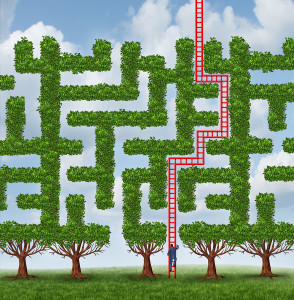 I was grazing over on Amazon on the lookout for fresh perspectives on leadership. I noticed that along side of Judith E. Glaser's excellent book on Conversational Intelligence, was a new title, Personal Intelligence. Is this a trend? Daniel Goleman could have started it 20 years ago with his books on Emotional Intelligence.
You can't really talk about intelligence without acknowledging the Multiple Intelligences theory of Howard E. Gardner. He expanded our thinking that intelligence was narrowly defined and measured solely by the Stanford-Binet IQ test.
Assuming that these authors and professors in some our finest universities know more about the mind that we do, can we define the parameters for leadership intelligence? Is there such a thing?
If there is, we could devise a test, then not hire those who fail a certain percentile. Or fire some of those "dumb bosses."
I'm reading another Warren Bennis book on Learning to Lead.  In it, he writes about contextual intelligence:
"Leaders with contextual intelligence seek to understand the impact of external events of their life choices and search for ethical solutions to guide others to learn to lead. They know they must master their big-picture context as well as their personal context to take leadership in their organization."

Cultural intelligence is a leadership skill that can be developed by anyone at any level of any organization when they perceive and understand the cultural and personal context that impinge on their lives.
He further defines contextual and cultural intelligence as coming from four sources of knowledge:
Self-knowledge: A leader must understand themselves, their values and beliefs.
Social-network knowledge: (… and I know Bennis isn't referring to Facebook, etc.!) This draws on your recognition and assessment of the information flowing around you from friends, colleagues, and acquaintances.
Organizational knowledge: This comprises a web of themes from the culture of your workplace, school, community, volunteer site, or family.
Stakeholder knowledge: This includes the history, thoughts, expectations, needs and desires of those who depend on your leadership. It includes the values and needs that you must address to gain stakeholder trust.
Bennis believes that to develop your leadership skills (and intelligence) you must master the external context of your life as well as hone your ability to align with your internal context of values. Leaders will need to increase their ability to perceive, judge and deploy all four sources of knowledge.
What's your opinion on this? I've love to hear from you.