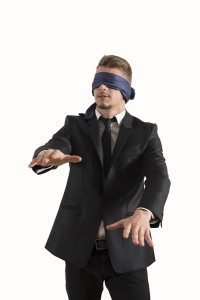 Conflicts can be healthy in relationships and organizations where trust has been established. Diverse perspectives challenge tunnel vision and the status quo, while promoting learning and innovation. When issues are constructively debated, new solutions emerge.
Yet still, it's human nature to want to defend and win an argument. Debate turns into conflicts and becomes destructive when positive energy turns negative and erodes trust. Empathy and insight are tossed aside when we filter incoming information through the lens of what we believe and want. We categorize others as the enemy, who must be wrong.
Instead of debate, conflicts become a power struggle that prevents you from seeing any solution (other than winning your point). The automatic mind is in full force, fueled by strong emotions, and the reflective mind is ignored.
In my leadership coaching, I try to find a way for people to discover their own leadership blind spots. We reflect and dissect conflicts, to find the automatic and reflective elements.
Leaders excel when they reactivate their higher intelligence to find the way out of a conflict blind spot. They do this when they slow the discussion, perhaps even take a break.
Smart leaders in conflict breathe deeply and re-center. When they return to discussions, they acknowledge common ground instead of focusing on the conflict.
They ask themselves and others, "What problem do we both want to solve? What goals and values do we share?"
Overcoming Blind Spots
"Only in acknowledging our own flaws and vulnerabilities can we become authentic leaders who empower people to perform to the best of their abilities." ~ Steven Snyder, Leadership and the Art of Struggle
A blind spot's effects may not show up right away. Without paying careful attention, you may miss the warning signs. It's therefore critical for you to proactively work toward discovering them, before you feel the effects.
Consider working with a professional coach who can help you collect data from your boss, colleagues and coworkers. Your coach can administer a personality test and then show you how to evaluate and interpret input. If you'd like to know more about how that works, give me a call.
Also take a look at past or current struggles to determine whether conflict blind spots have hindered your performance.
What can you learn from your mistakes?
What would you do differently in the future?
How can you reframe situations from others' perspectives?
When you have a vague awareness of a blind spot, fight against the normal psychological inclination to remain anchored in safe, established patterns. Change occurs only when you engage others in the process.
Above all, don't blame others for your blind spots or comfortably coast along in unproductive patterns.
If you'd like to discuss how you can discover your own leadership blind spots, contact me here; let's have that conversation.