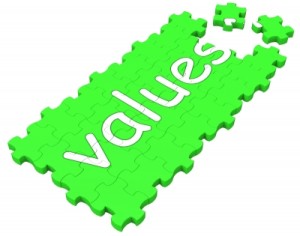 One of the most challenging choices leaders face is weighing values against short-term business gains. Values and strategy are areas where blind spots commonly occur for leaders.
I've been discussing how even good leaders can fall into faulty thinking and leadership blind spots. No one is immune.
We can group the most common leadership blind spots into five key categories:
Experience
Personality
Values
Strategy
Conflict
A prime example is when your attitude and emotions are out of sync with your values; you become uncomfortable and unbalanced — a state psychologists call "cognitive dissonance." In short, what we say and do is incongruent with what we believe and who we believe we are.
In the work I do as an executive coach, I see how leaders create a values blind spot on a personal as well as an organizational level. Values conflicts are particularly insidious when you're somewhat aware of them, but fail to take appropriate corrective action.
In business situations, a values blind spot can affect the entire organization. Can you think of a time when an implicit incentive to maintain the status quo conflicted with a change initiative? That's a typical values blind spot in action.
Closely related are strategy blind spots. For example, organizations often reward conformity and punish critical or questioning voices. When leaders operate in this framework, followers become disengaged.
When a collective worldview becomes self-reinforcing around a set of practices, assumptions or beliefs, there is potential for groupthink. Creativity and agility suffer because conformance is valued above change, and risk is discouraged.
Strategy blind spots can occur in any organizational area. They're not restricted to values. Unfortunately, they are often spotted in hindsight, after an important opportunity is missed.
Leaders who prize openness and transparency have the best chance of spotting strategy blind spots. They encourage input at all levels, fostering a culture of trust where ideas are honestly debated.
When leaders communicate values and openness, but don't "walk the talk," however, they are blinded. They don't see the same reality their followers see.
Sometimes, it takes an executive coach to take the blindfold off! What's been your experience working within an organization blinded by reality? Leave a comment; I'd love to hear from you.
(Image: Stuart Miles freedigitalphotos.net)