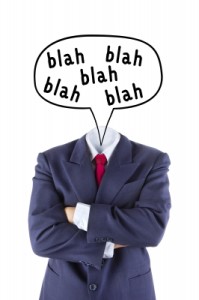 If you lack the influence you need, it may be because you're operating in a leadership blindspot. One of the challenges of leadership is being aware of how your message is received. Everyone has blindspots, even when you have the best intentions and have clearly communicated what's needed.
"Leadership is a struggle by flawed human beings to make some important human values real and effective in the world as it is." ~ Steven Snyder, Leadership and the Art of Struggle
There's no escaping it: No matter how hard we try to be self-aware, everyone — including the best leader—has unproductive behaviors that are invisible to us but glaring to everyone else.
When there are incongruencies between what a leader says and what he/she does, a leader's messages aren't received intact. People hear a different message. There's a disconnect between what is said and what is heard.
Our leadership blind spots create unintended consequences: They distort judgment, corrupt decision-making, reduce our awareness, create enemies and silos, destroy careers and sabotage business results.
In my leadership coaching, I see executives who are particularly vulnerable to their blindspots. They often buy into the overpowering belief that they have all the answers and can easily handle challenges great and small.
They exploit their powers of self-confidence at the expense of introspection and self-questioning. For many, the need to be right trumps their mandate to be effective.
These leaders fail to see that their behaviors can be destructive to themselves and others, even when their intentions are positive. They forget that others judge them on their behaviors and results — not by intentions.
A blindspot is a performance-hindering mindset or behavior of which you're unaware or have chosen to overlook. A recent Business Week article cites some important research:
A Hay Group study shows that an organization's senior leaders are more likely to overrate themselves and develop blindspots that can hinder their effectiveness.
A study by Development Dimensions International, Inc., found that 89 percent of front-line leaders have at least one skills-related blindspot.
The Hay research suggests that, as executives rise within an organization, the less likely they are to see themselves as others perceive them. They often lose touch with those they lead—not surprising, given their increased isolation and the executive suite's "rarified" atmosphere. As they reach the pinnacle of their profession, they have fewer peers and greater power.
Honest feedback and open dialogue often become rare commodities. This poses a serious problem, as researchers have found a direct correlation between high performance and accurate self-awareness.
There are a couple ways to work with leadership blindspots. You can:
Establish 360-degree feedback processes (even in the executive suite)
Provide executive coaching
Foster a culture that values open feedback and dialogue (particularly at the top)
What's been your experience with blind spots? Has anyone ever pointed out to you a possible disconnect? I'd love to hear from you.
(Image: freedigitalphotos.net)