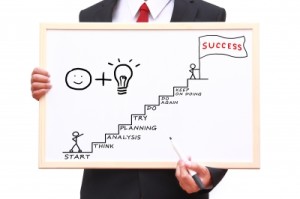 When leaders put more positive leadership in action, they get better results.
Positive leadership isn't just an exercise in feeling good. It's about results. The best intentions don't count unless you put principles into action. To reap the full benefits of positive leadership, you have to continually practice action steps.
When some of the executives I work with first hear the term "positive leadership," they think it's just another management fad about making people feel good.
It's much more than that; it's really about bringing out the best in people which drives bottom line rewards. Positive thinking without more positive leadership in action is not worth much.
For example, instead of seizing on what your people do wrong, start to verbally acknowledge what they're doing right. Track and recognize progress. Most people perform better when they know they're appreciated.
This doesn't mean you should suppress bad news. Instead, learn to deliver it in ways that are less likely to provoke defensiveness. 
Your execution will improve with continual practice. You'll gain respect and better performance outcomes – whether you're participating in official performance reviews or simply engaging in casual conversations with employees.
As leaders, if we want to staff our organizations with executives who can deliver results and demonstrate superior social skills, we need to start identifying them during the hiring and promotion processes.
Hard-driving, results-oriented executives can learn to improve their social skills by retaining an experienced executive coach. Additionally, organizations can improve their effectiveness by:
Hiring for both technical and social skills
Training equally for social skills and technical savvy
Rewarding goal attainment and displays of social skill
Promoting those who demonstrate social prowess
CEOs and upper management must realize that rewarding task achievement alone has its limits. Organizations must provide incentives for behaviors, even when people take risks and "fail up."
Leaders are most effective when they demonstrate social intelligence. Luckily, they can be trained, coached and rewarded for improving their facility in this arena. Specific areas of emphasis should include:
Day-to-day conversations
Performance reviews and feedback
Incentives, rewards and pay
Connecting mission to values
Identify and implement action steps on multiple fronts – from the seemingly simple communication efforts to the more complex ones. Changes at the individual level will begin to transform your working environment into a finely oiled machine that values both results and social relationships.
Putting more positive leadership in action will allow employees at all levels to flourish at work, sustain energy and reach peak performance. Conversations that highlight people's strengths, desires and dreams generate emotions and energy that drive us to work harder.
The more positive the discussion, the more positive the outcome. What do you think about this? I'd love to hear from you; leave a comment.
(Image: freedigitalphotos.net)