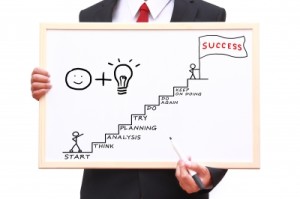 In these last blog posts, I've been writing about how to take a great idea through the innovation development process.
Best practices for innovation suggest four distinct phases:
Execute.
After completing the testing, learning and revising phases, put your plans to actual work. Start with a pilot project to minimize resources and maximize potential.
You'll need to manage resources to improve potential. Determine what you'll do yourself and what you'll delegate. Involve partners where feasible.
If the project is part of a larger organizational mandate, prepare a presentation on your results for involved executives. Your presentation style and contents will influence your project's acceptance or rejection, so be meticulous. You may love your baby, but how will you convince others to adopt it? Seek help from presentation experts or a coach, to ensure success.
Remember, the belief that a good idea will win the hearts (and money) of the consumer is false. You may have the greatest idea and still fail to gain market success. An ideal product or service is tempered by people's willingness to try new things, culture, habits and other events. The number of failed innovative products is testimony.
The most successful innovations balance what experts and consumers value (often two different perspectives). Keep in mind: Success is never guaranteed, no matter how hard you push or market your innovation.
How Can You Acquire Innovative Qualities?
Business professors Jeff Dyer, Hal Gregersen and Clayton Christensen decoded what they call The Innovator's DNA in their book of the same name (Harvard Business Review Press, 2011).
Successful innovators master associational thinking. They make connections among seemingly unconnected inputs.
Here are four time-tested approaches for gathering stimuli and making connections:
Questioning: An innovative mind makes a lot of "what if?" inquiries.
Networking: Innovators interact with people from diverse backgrounds to access new perspectives.
Observing: Innovators are always looking at the world with business radar to detect surprising solutions.
Experimenting: Innovators try new things, in new places, to expose themselves to new experiences.
You can develop these qualities by working with a professional coach [link]. These are all skills you can improve and get better at. My clients develop their ability to be more innovative through the coaching process.
The investment is well worth the reward: your ability to influence the future, your career and your personal-development capabilities.
If you've got questions, drop me a line, or call [phone and/or contact page link].