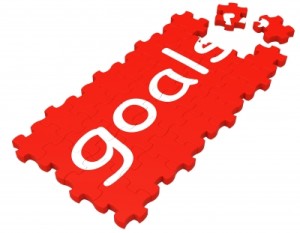 I've been writing how to get your goals lately, here and here, and in particular about setting big, hairy audacious goals (BHAGS). Those are the kinds of goals that are exciting and challenging and they create a lot of energy.
BHAGS are also the hardest to complete, because we often aren't prepared for the difficulties and obstacles that pop up. At the first sign of hardship, we're tempted to move the goal posts.
But with all the Internet goal programs that have proliferated, it's now easier to track and maintain focus on your goals. These online goal-tracking programs can help you achieve your goals. Of course, you have to actually use them, and you still have to do the work!
Here's a list of the top 10:
Are Your Goals Incomplete?
"Learning — from experts, workshops, trainings, practical experiments, therapy, coaches, observing and silence — is all good," notes Starbucks' Howard Behar. "It's how we test and hone our values, our potential and our goals in the real world of life." (Howard Behar, It's Not About the Coffee: Leadership Principles from a Life at Starbucks, Portfolio Hardcover, 2007)
 Real learning occurs when you review your goal shortages with your coach or accountability partner. You can then revise your goals and work toward achieving them. The rewards you'll enjoy are well worth the hard work, time and commitment required.
If you've ever struggled with a goal, you're certainly not alone.  Four things usually contribute to goal failures:
Poorly chosen goal, not aligned with your values and motivation
Insufficient time or energy: underestimation of requirements
Poor tracking of what is actually done
Poor reinforcement for success; no support from others
My suggestion is get a coach or at least an accountability partner so you can figure out what you need to do to get to where you want to go.
If you need help deciding what to do, give me a call: 704-827-4474.
(Image: Stuart Miles, freedigitalphotos.net)