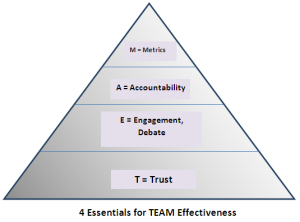 I've been exploring what makes a team effective or not in previous posts here and here. I've noticed in some of the organizations where I coach, some team members work really well together and some don't. What makes a real difference in teams? They all have high levels of trust with each other. And they care about their work, they're extremely engaged.
I've worked with some teams that got along fabulously, but missed the mark on results. And others struggle with personalities and opinions, yet they still excel beyond expected goals.
I'm using a simple acronym of TEAM, which describes four elements of effective teams:
Let's talk more about the first two, trust and engagement and what that can mean for team success.
Trust
Nothing is more important to team success than a solid foundation of trust. Unfortunately, this can be hard to achieve. People are dedicated to self-preservation, often at others' expense.
"When it comes to teams, trust is all about vulnerability," Lencioni notes in Overcoming the Five Dysfunctions of a Team. "Team members who trust one another learn to be comfortable being open, even exposed, to one another around their failures, weaknesses, even fears."
Trusting relationships form the foundation for forgiveness and acceptance. Authenticity depends on members' willingness to admit weaknesses and mistakes. Trust cannot exist if team members are afraid to say:
"I could be wrong."
"I messed up."
"I'm not sure."
"I need some help here."
"I'm sorry."
Team-building sessions are the glue that holds the group together when the going gets rough. Trust is established when one team member shows a willingness to be vulnerable and takes personal accountability.
Managers can also build trust by sharing personality assessments and profiles (Myers-Briggs Type Indicator or DISC assessment). When team members learn how different personalities deal with tasks and relationships, they can be more understanding and accepting. Ask your coach, team leader or HR department to conduct one of the common assessments to shed insights into members' personalities.
Engagement
Think of employee engagement along a continuum. On one end there's complete apathy, disengagement and perhaps even sabotage (the ultimate form of negativity). On the other end there's total engagement (unbridled enthusiasm and passion).
Engagement requires team members to be open to debate and willing to discuss the issues and tasks that matter most. Members who succumb to apathy and disengagement often don't feel safe enough to speak up. Lencioni cites this desire to avoid conflict as one of the most pervasive team dysfunctions. Others include:
Lack of trust
Lack of commitment
Avoidance of accountability
Inattention to results
When trust has been established, team members can safely argue about issues and decisions that are critical to success. They're comfortable disagreeing with each other, challenging perspectives and questioning premises in an effort to find the best answers. They're willing to consider all opinions and possibilities to arrive at sound decisions.
Active debate means team members can achieve a consensus (not necessarily unanimous) and commit to action steps.
"If team members are never pushing one another outside of their emotional comfort zones, then it is extremely likely that they're not making the best decisions for the organization," Lencioni notes.
What's it like in your team? Trust can be fragile. I've found that it builds with each conversation. But it can be easily broken. What are some of the things you do to strengthen trust and engage others at work? I'd love to hear from you.