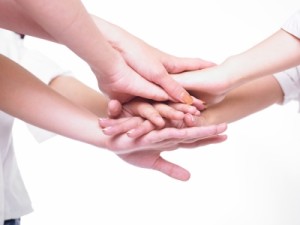 What makes a team great? If you've ever had that experience of being part of a successful team, you know what I'm talking about. Everyone is energized, passionate, fun to work with. Even with obstacles, it's a great experience to see what you can solve together. So just what is it that makes a team work well together?
Consultants Jon R. Katzenbach and Douglas K. Smith provide a solid definition of "team" in The Wisdom of Teams: Creating the High-Performance Organization (HarperBusiness, 2006):
"A team is a small number of people with complementary skills who are committed to a common purpose, performance goals, and an approach for which they hold themselves mutually accountable."
Teams can be composed of anywhere from 3 to 20+ members, but there's often an ideal number: around 10–12, depending on the nature of the project. They can, and should, be diverse to benefit from multiple perspectives, skills and knowledge. But sometimes that diversity creates strange alliances.
Management professors Vanessa Urch Druskat, PhD, and Steven B. Wolff, PhD, identify three conditions essential to group effectiveness in "Building the Emotional Intelligence of Groups" (Harvard Business Review, March 2001):
Trust among members
A sense of group identity
A sense of group efficacy
When working well, teams have definite advantages:
Improved information-sharing
Better decisions, products and services
Higher employee motivation and engagement
What separates the good from the mediocre? What makes a team great? In my work coaching executives, I often hear about teams gone wrong. Have you worked in a particularly effective team? I'm curious as to what makes the difference.
When a team first forms, members identify their common goals and purpose. They can formalize their mission in a meeting that identifies the basic organizational issues:
Core purpose
Core values
Business definition
Strategy
Goals
Roles and responsibilities
Team members must have a shared understanding of the business before they define their purpose. Without this foundation, group cohesiveness is more difficult to achieve.
Next, team members should list what they intend to achieve as a group. This goal should be qualitative rather than quantitative. It's an over-arching purpose for the team to exist. It's the compelling glue that drives the team forward in face of challenges.
What's your experience been with teams? I'd love to hear from you, leave a comment. (Photo source: Freedigitalphotos.net)