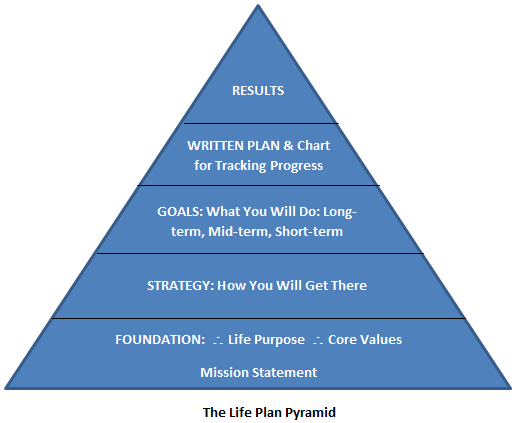 When working with clients on personal development goals, I often suggest doing a life plan. You can use a classic business strategic planning model to map out your life plan. Here are seven-steps to get you started.
Purpose: Identify your purpose (mission statement). Describe your life's focus. If you're young and just entering adulthood, this step may be challenging. Imagine you're approaching the end of your life, and figure out what you'd tell people about a life well lived. Your statement should reference your values and explore how you intend to spend your time at work, at home and in leisure pursuits. Outline the needs you intend to meet (community involvement is sometimes mentioned). Recognize that your mission statement will change over the years.
Vision: Establish a vision statement. Describe your life at various points in the future.
Goals: State the goals you must reach to achieve your vision. Goals are general statements that (a) define what you need to accomplish and (b) cover major issues. Your vision and goals may be mid-range (for example, 3–5 years into the future). Break them down into short-term steps, as well.
Strategies: Identify strategies you must implement to reach each goal. Your specific approaches will change as you engage in more robust strategic thinking—particularly as you closely examine external and internal environments.
Action Plan: Identify strategic action plans or goal objectives. State the specific activities or objectives you must undertake to effectively implement each strategy or achieve each goal. Use clear language so you can assess whether objectives have been met.If you decide to work with a coach or accountability partner, include this as part of your action plan. Most experts agree that working with another person enhances successful goal achievement.
Document: Compile the mission, vision, strategies, goals and action plans into a Life Plan document. This can be done as a written text or in chart or diagram form.

Track Progress: Monitor implementation of the plan; update it, as needed. Regularly reflect on the extent to which goals are being met and whether action plans are being implemented. Use a spreadsheet or graph to monitor your progress, adjust your plan and remain challenged.
What's been your experience writing down and tracking your goals? Most people say that it helps them. What about you?