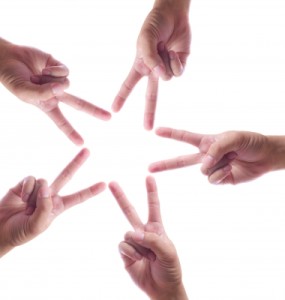 How can leaders encourage team accountability? Most management systems are so focused on individual performance that they undermine the very teamwork they hope to encourage.
In my opinion, based on working with teams, there's not nearly enough emphasis on team behaviors, goals and success. If leaders want to see teams succeed, there must be team accountability, not just individual performance feedback.
As a team manager, you can support desired behaviors by ensuring that everyone understands and agrees on what success looks like. Bring team members together to discuss goals and metrics. Have them answer this question: "What would it take for us to give ourselves an 'A'?"
Once the team knows and understands its mission and how work will be evaluated, be sure to check in regularly. Pose questions that help the group assess its progress:
How are we performing as a team?
What obstacles can we remove?
How can we help each other do even better?
Harvard Business Review Contributing Editor Amy Gallo offers worthwhile suggestions in "How to Reward Your Stellar Team" (August 1, 2013, blog post):
  Do:
Agree on what success looks like.
Bring the group together to discuss progress against goals and how to improve.
Consider doing a formal team evaluation.
Don't:
Think of money as the only reward. (People appreciate numerous types of nonmonetary perks.)
Focus on individual performance. (Instead, emphasize the team's accomplishments.)
Reward your team with something they don't collectively value.
You don't have to overhaul your company's evaluation process or pay structure. As a team manager, you can support the right behaviors with things that are in your control. There are many non-monetary rewards to encourage team accountability and performance.
Besides team parties and social events, think about giving them privileges tied to work such as exposure to senior leaders. Include them in meetings, and mention the team success whenever possible.
There's nothing more important than getting accountability right. It extends to individuals, teams and the organization.
How is accountability handled in your place of business? I'd love to hear your experiences, both positive and negative. Leave me a comment.
(Image: Freedigitalphotos.net)